Kahawai Amok Recipe
Mathew Bergersen shares his kahawai amok recipe, and tips for ensuring the flesh stays in primo condition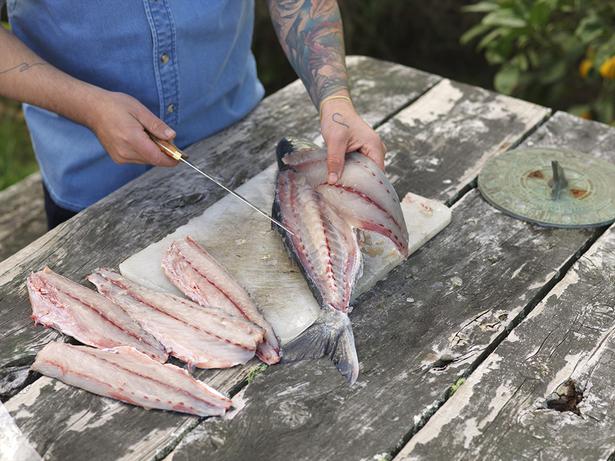 Monday Sept. 21, 2015
"The humble kahawai would have to be the most underrated table fish we have in our waters, and for no good reason. When cared for properly you end up with oily, firm fillets as good as any. It is perfect for this Cambodian style curry. 
"Fresh is always best and if you plan on catching a couple of these guys for tea here is what I would recommend doing to ensure the flesh stays in primo condition:
"Dispatch the fish as soon as it's caught by giving it a good knock on top of the head, using a fish bat or the back of a heavy knife. Run a blade up from the bottom of it's gills until you hit the spine, this will cut through the necessary arteries. Pull the head upwards and blood should start to squirt out. You can also cut from the bottom of the tail up until you hit the spine to sever the lower artery. After a few minutes the fish will have bled out and this is a good time to gut and clean it, rinsing in salt water before packing in salt ice."
KAHAWAI AMOK
Serves 2
Ingredients
Curry paste
3 cloves garlic, finely chopped
1 large shallot, finely chopped
2 red chillies, seeds removed on finely chopped
1 ½ tsp freshly grated ginger
1 tsp flaky sea salt
3 small lemongrass stalks, outer husk removed and finely chopped
2 kaffir lime leaves, stalks removed and finely chopped
1 tsp coconut sugar
1½ tsp freshly grated turmeric
Amok
1 Tbsp peanut oil
½ tsp anchovy paste
1 ½ cups coconut milk, reserve 2 Tbsp from the top
1 Tbsp coconut sugar
350g kahawai skinned, boned and cut up into hearty mouthful sized pieces
1 cup baby kale
1 egg
1 Tbsp fish sauce
1 red chilli, seeds removed and finely sliced
2 kaffir lime leaves, stalks removed and finely slivered
1. Using a mortar and pestle, pulverise garlic, shallot, chillies, ginger, salt and lemongrass until it starts to break down, then add kaffir lime leaves, turmeric, sugar and pound it to a paste.
2. In a large saucepan heat oil over a medium heat, add paste and cook for 3-4 minutes until fragrance is exploding from pot.
3. Whisk in anchovy paste, coconut milk and coconut sugar, simmer for a further 3 minutes.
4. Place fish and baby kale into sauce and gently fold everything together so fish is covered, poach fish until nearly cooked through, about 3-4 minutes. While this is going on whisk egg, fish sauce and 2 tablespoons of curry sauce together.
5. Turn off heat and carefully fold egg mixture through curry. Put a lid on and let it sit for 2 minutes, by which time fish should be perfectly cooked through and egg thickened.
6. Dish it up alongside some steamed jasmine rice, topped with the reserved coconut cream, sliced chilli and kaffir lime.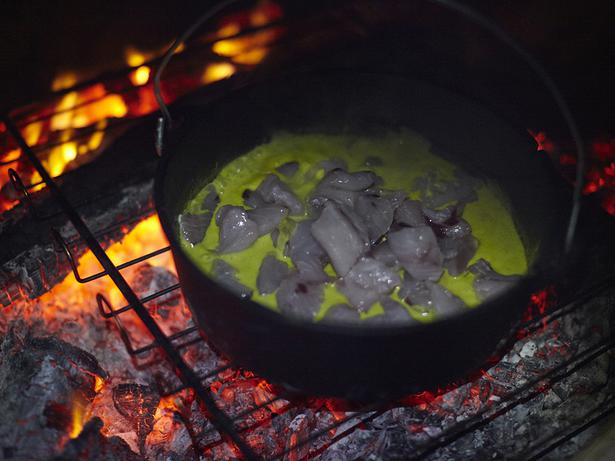 Share this:
More Food & Drink / Recipes