Kedgeree Recipe
Try Angela Casley's healthy and hearty kedgeree meal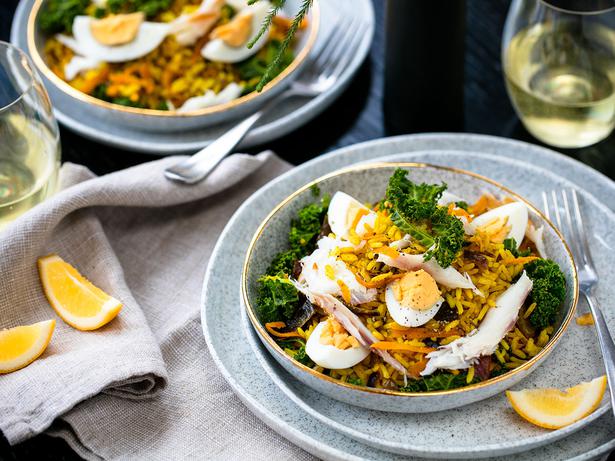 Friday Oct. 7, 2016
Kedgeree is a nostalgic meal for me. Snapper or other fish we caught in the Kaipara as children was often smoked, and the last of it usually ended up as a tasty kedgeree. It was often served as a hearty breakfast, which would keep us going all day on the farm. I liked a poached egg on mine, but boiled eggs are traditionally used.
KEDGEREE RECIPE
Serves 4
20g butter
2 Tbsp oil
1 onion, chopped finely
1 Tbsp grated fresh ginger
½ tsp turmeric
2 tsp curry powder
1 carrot, grated
½ cup chicken stock
3 cups cold cooked rice
2 cups kale, chopped small
Salt and freshly ground pepper
250g smoked fish (I used snapper)
2 eggs, hard-boiled, for garnish
1. Melt butter and oil in a large frying pan. Add the onion and cook for 2 minutes, then add the ginger and cook for a further 2 minutes.
2. Add turmeric and curry powder and stir until the mixture becomes aromatic. Add carrot and stock. When carrot starts to soften, fold in rice and heat through. Add kale and season with pepper and salt.
3. Just before serving add the fish. Serve hot, garnished with quartered eggs.
Share this:
More Food & Drink / Recipes