A Twist on Traditional Hangi
This year's Taste of Auckland sees local eateries and chefs reimagining the traditional hangi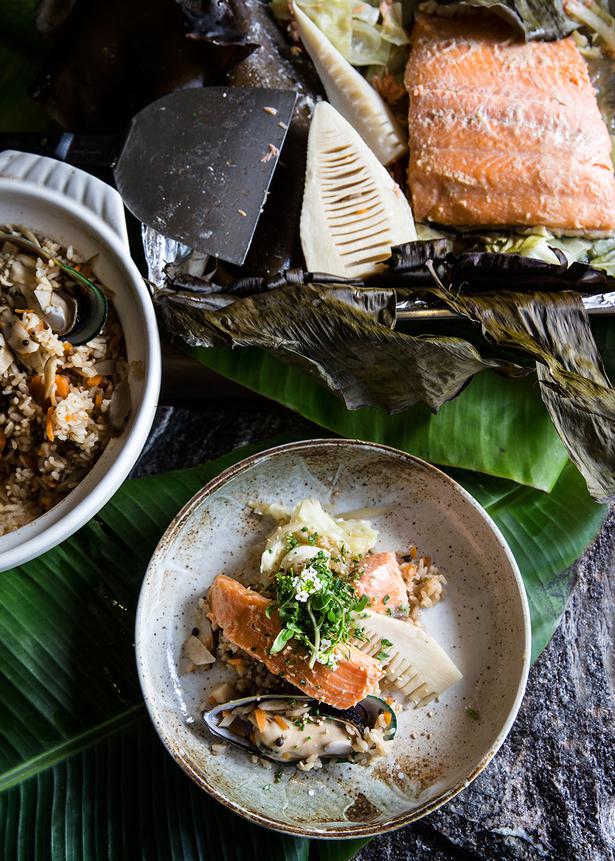 Wednesday Oct. 21, 2015
"It would be an honour if those that have experienced hangi think that this is a tasty Japanese dish with the unique hangi characteristic," says Makoto Tukoyama, the owner of Ponsonby restaurant Cocoro.
He's one of the many leading chefs reimagining the Maori style of cuisine at this year's Taste of Auckland, with his dish using miso-marinated salmon served with earth-smoked Japanese rice (pictured).
"I hope the unique earthy taste and aroma of the hangi will create harmony with the traditional Japanese flavour."
Although the festival has been running for seven years, it's the first time shovels, hot coals and food baskets have been brought out to recreate the traditional style of cooking at the event.
Each day a different hangi dish will be served, influenced by some of the best local chefs and eateries: Cazador is serving goat shank with preserved lemon; The Tasting Shed is creating chilli pork with kimchi; chef Tu Fearn is making pork sliders with Maori bread; steamed pork buns with duck are coming from The Grove; and O'Connell St Bistro is serving up a Sunday roast with all the trimmings.
And while the chefs take care of the menu, hangi masters Rewi Spraggon and Riki Bennett will tend to the fires.
• Taste of Auckland is on November 5-8 at Western Springs. Tickets, which start at $26, are available now from iTicket.co.nz
Share this:
More Food & Drink / The Latest