The Secret Behind the Kimcheese Burger at Tiger Burger
We ask the owners of Tiger Burger to dissect their signature dish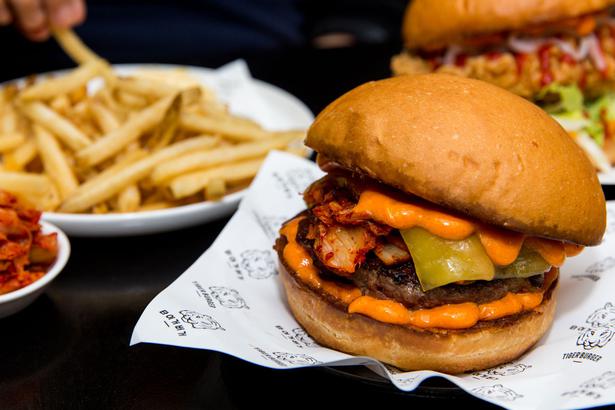 Monday Aug. 29, 2016
Of all the adventurous burgers appearing on menus around Auckland, none have tickled our interest as much as one on the menu of Korean fusion eatery Tiger Burger.
Owners Matt Shephard and Esther Jeong wanted to take the popular cheeseburger and put a Korean spin on it, replacing the gherkin with a traditional Korean version of a pickle: kimchi. Thus, the kimcheese burger was born.
The burger consists of five main parts: A custom bun from Loaf, kimchi, chilli mayo, a house-pressed beef patty sourced from Grey Lynn Butchers and a slice of aged cheddar from The Cheese Room in Milford.
The key ingredient is kimchi, which is made in-house. The cabbage is salted for 4-6 hours, washed and then each leaf is painted with a mixture of over 10 ingredients, including fish sauce, gochugaru, radish and spring onion. The whole process takes a day, and then it's left to ferment for a few weeks. Before being added to the burgers, the kimchi is drained and sauteed.
As for the chilli mayo, the secret is in the gochujang, a fermented Korean condiment, which is also made in-house to ensure it's gluten-free and vegan-friendly. That takes 2-3 months to brew too, and then fresh chillis and housemade mayonnaise are added before being slathered generously on the buns.
On a busy day, Tiger Burger will churn through 90-100 kimcheese burgers alone. If you really want to make the most of the Korean concoction, order your burger with a side of kimcheese fries, too.
— 549 Great North Rd, Grey Lynn
Share this: