Kimchi Recipe
Try the recipe for this traditional Korean dish rich in vitamins A and C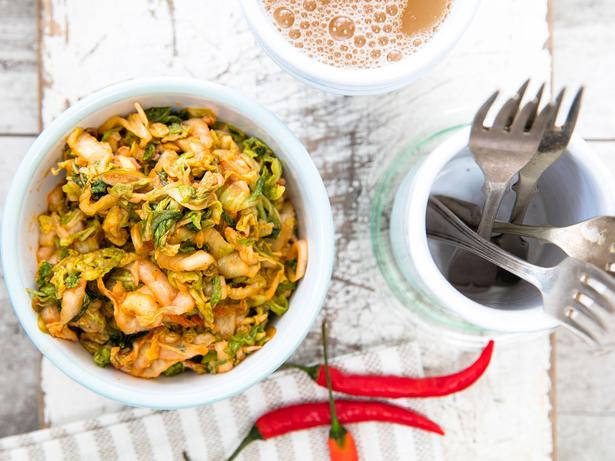 Friday Sept. 30, 2016
This week I've been experimenting with kimchi, a traditional Korean dish made up of fermented vegetables, after hearing its praises sung by a cousin visiting from London. Rich in vitamins A and C and good for the bacteria in your gut, the idea is to dollop a large spoonful of the kimchi on to meals or mixed it into a salad. To get the best results be patient and let the fermentation process take full effect.
KIMCHI RECIPE
Serves 6
1 Chinese cabbage
½ cup salt
2 spring onions, sliced
2 Tbsp fish sauce
½ onion, grated
2 cloves garlic, crushed
¼ cup white sugar
1 Tbsp grated fresh ginger
2 Tbsp Korean chilli paste or spice
1. Shred the cabbage and place it into a large bowl. Sprinkle over the salt and massage into the leaves. Place into a large snaplock bag, seal and leave for a few hours — you'll get a huge puddle of liquid. Wash the cabbage well in a large colander removing all the salt. Squeeze out the liquid and pat dry.
2. Place the cabbage into a large bowl. Add the spring onions, fish sauce, onion, garlic, sugar, ginger and chilli paste. Combine the mixture well. Place into a large jar, seal and place in a cool area for four days. Turn upside down once a day. Place into the fridge after the four days.
3. Once chilled, it is ready to enjoy.
Share this:
More Food & Drink / Recipes