King of Sandwiches
The latest and greatest sandwich on the scene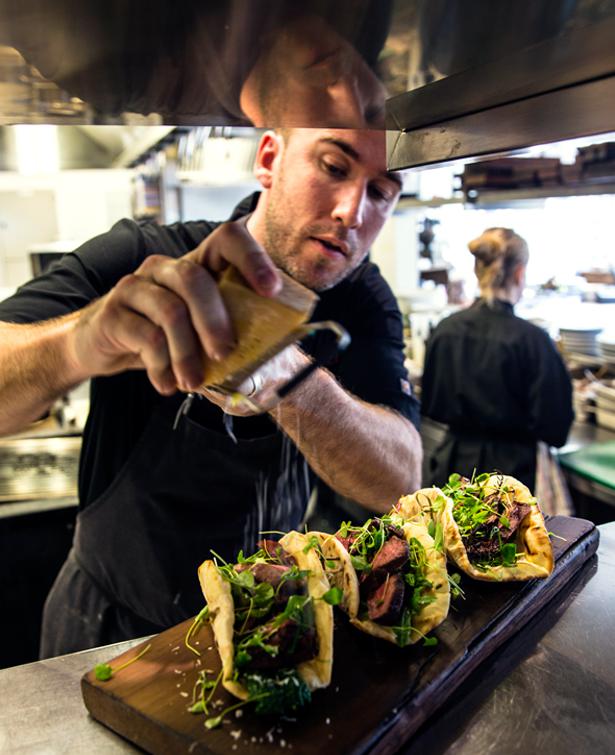 Friday Oct. 2, 2015
When Michael Dearth of The Grove and Baduzzi asked me to join him for a sandwich, I couldn't say no.
With top chefs Ben Bayly and Glen File (pictured) in the kitchen of his two award-winning restaurants, this wasn't going to be your typical bread and butter kind of sammie. No, this was a mouth-watering, juicy delight of chargrilled rump steak, served with roast aubergine puree and stracciatella cheese, wrapped in a pizza dough that has proved overnight and bubbled into a delectably soft, yet chewy panini. This is a sandwich worth driving across town for. It's so good, you might even want two.
Dearth's desire to push sandwich boundaries came from a recent trip to the United States where, he says, the scene is big. "There are amazing places dedicated to creating sandwiches which we just aren't seeing here yet."
Starting this week, the sandwiches will be sold to take-out only at lunchtimes from Baduzzi. A different flavour will be made fresh each day — think succulent chicken thighs, meatballs and Waikanae rump steak — and there will be a limited number available. For $15 with a can of San Pellegrino, this is the perfect gourmet lunchtime picnic break.
• Available at Baduzzi, cnr Jellicoe St and Fish Lane, North Wharf, Wynard Quarter. Ph (09) 309 9339.
Share this: