Kiwifruit, Ginger and Honey Cake Recipe
Try this deliciously scented cake by Eleanor Ozich of Petite Kitchen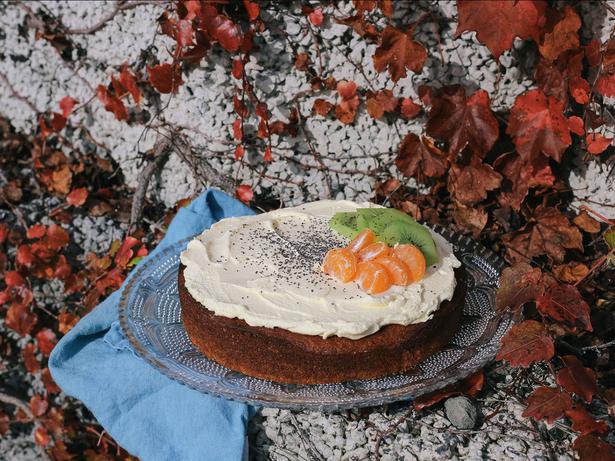 Thursday June 9, 2016
Scented with ginger and cinnamon, this honey cake sparkles with seasonal warmth. The sweet, almond batter is flecked with the flesh of kiwifruit, the little black seeds adding an intriguing crunchiness. Occasionally, cream is called for with cake, and this is certainly one of those occasions.

KIWIFRUIT, GINGER AND HONEY CAKE RECIPE
Serves 8
• 3 kiwifruit, flesh scooped out and finely chopped
• 2 cups ground almonds 
• 2/3 cup spelt flour, or flour of your choice
• 3 tsp ground ginger
• 1 tsp ground cinnamon
• 1 tsp baking soda
• 100g unsalted butter, softened
• 1/3 cup natural yoghurt
• ½ cup runny honey
• 3 free range eggs
1. Preheat the oven to 160C. 
2. Grease and line a cake tin with baking paper.
3. Place the ground almonds, spelt flour, ginger, cinnamon and baking soda in a large mixing bowl along with the butter. Using your hands, rub in the butter until the mixture resembles coarse crumbs.
4. Whisk yoghurt, honey and eggs together with the kiwifruit. Add to the almond mixture and gently stir until combined. 
5. Pour into the prepared pan, then smooth out evenly. 
6. Bake for 1 hour, or until golden and just firm to the touch. Cool completely in the tin, then carefully turn out on to a wire rack to cool completely.
7. Top the cake with gently whipped cream, slices of fresh fruit and a sprinkle of poppyseeds.
Share this:
More Food & Drink / Recipes