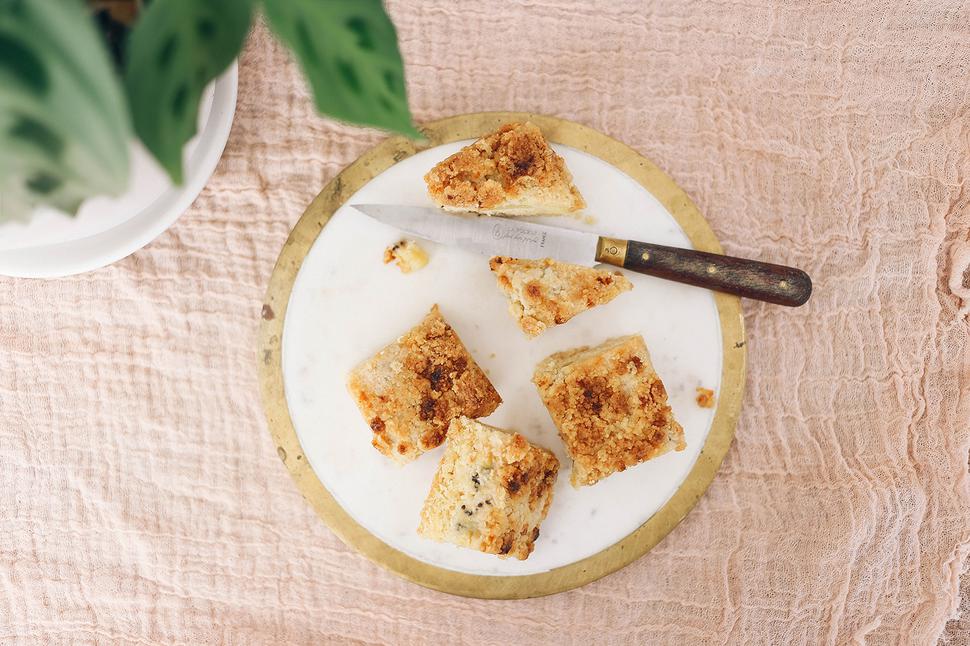 Kiwifruit Squares With Cinnamon Crumble
This delicious dessert has a tart kiwifruit filling atop a rich buttery base, finished with a crunchy cinnamon crumble
Thursday April 18, 2019
I like baking that has plenty of character and depth, and these super-moist kiwifruit squares tick all the boxes. The tart kiwifruit filling sits on top of a rich, buttery base, which is all topped off with a crunchy cinnamon-crumble topping. Serve with a splash of runny cream and you have a delicious dessert that will have you coming back for seconds.
KIWIFRUIT SQUARES WITH CINNAMON CRUMBLE RECIPE
Makes about 15 squares.

Ingredients
3/4 cup unsalted butter, chilled and cubed
1 ½ cups spelt flour, or flour of your choice
1 tsp baking powder
2 tsp ground cinnamon
¾ cup coconut sugar
1 large free range egg
6 ripe kiwifruit
Method
1. Preheat the oven to 180°C, and line a loaf tin with baking paper.
2. Put the butter, flour, baking powder, cinnamon and coconut sugar in a large bowl, and rub together until you have coarse crumbs. Take out about 1/3 of the mixture, and set aside.
3. Add the egg to the remaining mixture, and mix until well combined. The batter will be a little sticky and lumpy – that's absolutely fine.
4. Press the mixture into the bottom of the loaf tin, and press down with the back of a spoon to create the base.
5. Scoop the flesh out of the kiwifruit, and mash with a fork. Spoon the fruit over the base, and then top with the reserved crumble mixture.
6. Bake for 35-40 minutes, or until the crumbs are lightly golden, and the base is cooked through.
7. Allow to cool completely in the tin, before carefully transferring to a chopping board, and slicing into squares.
Share this:
More Food & Drink / Recipes