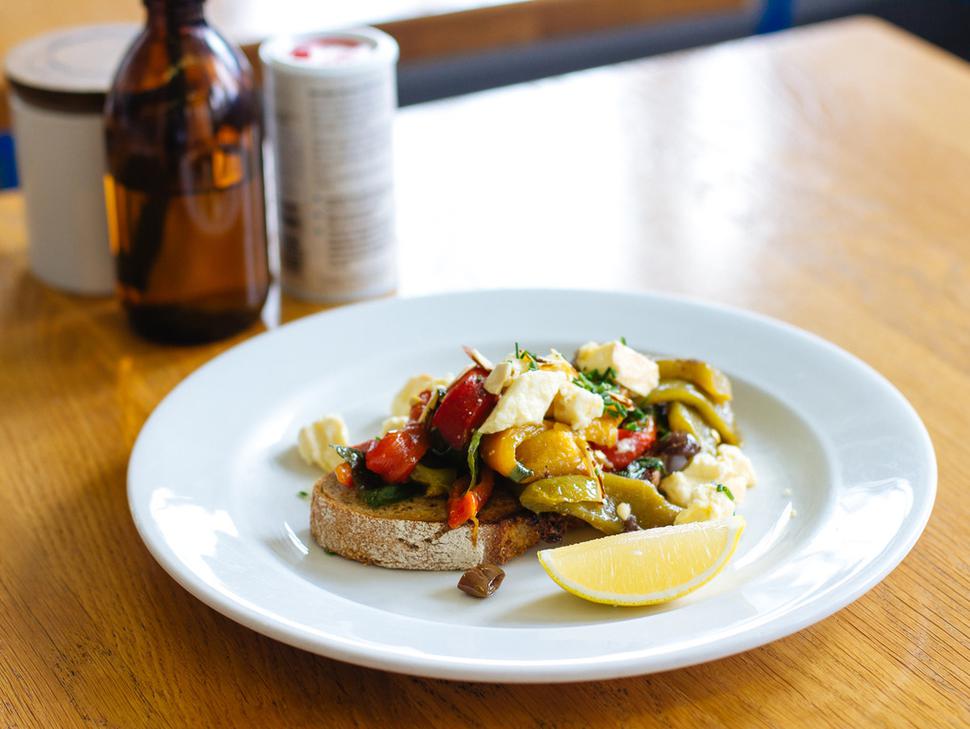 Kokako's easy brunch bruschetta
Kokako's head chef Rohan Horner shares an easy recipe from the Grey Lynn cafe's new menu.
Monday Feb. 23, 2015
A deliciously easy brunch or lunch dish, this bruschetta can be served with a poached egg and wedge of avocado for a more substantial meal. Head chef Rohan Horner says the lemon helps to cut through the sweetness of the peppers, saltiness of the olives and creaminess of the cheese.

BRUSCHETTA OF ROAST CAPSICUM, SMOKED BRINZA, OLIVE AND ALMOND
Serves 4
Time: 20-25 mins
• 6 capsicums - 2 red, 2 green, 2 yellow
• Olive oil
• Salt and pepper
• 1 tsp seeded mustard
• 2 lemons
• 3 Tbsp good quality pitted black olives eg. kalamata
• Fresh basil leaves
• 1 fresh garlic clove
• 4 slices sourdough bread
• 3 Tbsp toasted sliced almonds
• Smoked brinza cheese (similar to feta) - Kokako uses Zany Zeus manuka-smoked brinz
 
1. Prepare capsicums - rub each with olive oil and sprinkle lightly with salt, then place on an oven tray. Grill on a very high heat for 8 mins - allow 2 mins each side - until slightly blackened/charred.
2. Place capsicums in a large stainless steel mixing bowl and cover tightly in cling film. The steam created will ensure that capsicum skins can be easily peeled. Once cooled, peel off skins and discard with the seeds.
3. Slice capsicums lengthwise into 1.5cm strips and place in a smaller mixing bowl.
4. Add seeded mustard, 2 Tbsp olive oil, zest and juice of one lemon, salt and pepper and olives. Mix together gently, then allow to stand for 10 minutes at room temperature before mixing in ¾ cup torn basil leaves.
5. Rub a fresh garlic clove over both sides of bread and toast.
6. Top each slice of toast with almonds and approximately ¼ cup of brinza, then spoon roasted capsicum on top.
7. Add extra basil leaves as desired and serve with a slice of lemon.
Share this:
More Food & Drink / Recipes