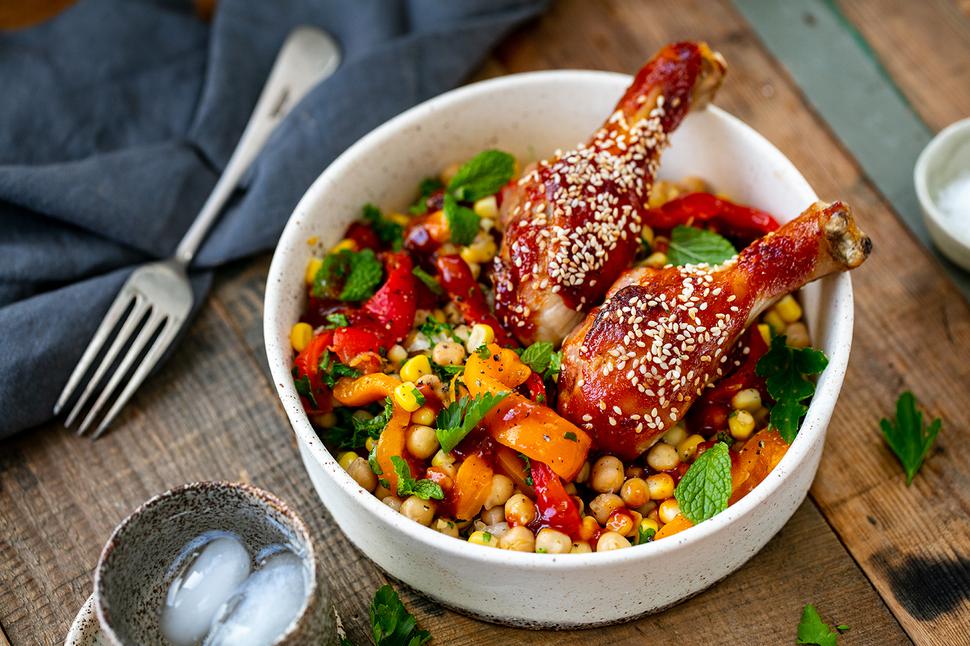 Korean Drumsticks With A Chickpea & Corn Salad
The barbecue, sweet-chilli marinade on these drumsticks makes this dish particularly special
Saturday Aug. 21, 2021
A good hit of chilli heats up this chicken and salad, tantalising the taste buds. Toasting sesame seeds is easy, just place them in a dry frying pan over low-medium heat. Keep an eye on them, tossing a couple of times; they will brown in minutes.
KOREAN DRUMSTICKS WITH CHICKPEA AND CORN SALAD RECIPE
Serves 4
Marinade
¼ cup barbecue sauce
¼ cup sweet chilli sauce
2 Tbsp soy sauce
2 Tbsp lemon juice
2 tsp sesame oil
1 tsp sambal oelek
8 chicken drumsticks
2 Tbsp toasted sesame seeds
2 Tbsp olive oil
½ red and ½ yellow pepper, thinly sliced
1 tin corn, drained
1 tin chickpeas, drained
1 cup chopped parsley
½ cup chopped fresh mint
1. For the marinade, combine in a bowl the barbecue sauce, sweet chilli, soy sauce, lemon juice, sesame oil and sambal oelek. Reserve a quarter of it for the dressing.
2. Preheat oven to 180C.
3. Place the chicken on to a baking tray, spoon over the marinade, then sprinkle generously with sesame seeds. Bake for 40 minutes or until the meat is just starting to come away from the bone. Remove and cool.
4. While the chicken cooks heat the oil in a large frying pan. Add the peppers, cooking for a few minutes to soften and brown slightly. Add the corn and chickpeas, warming through. Remove from the heat and toss through the parsley, mint and remaining marinade.
5. Serve with a side of drums.
Share this: