Recipe: Kumara and Lamb Cakes
Angela Casley's tasty patties make a great standby dinner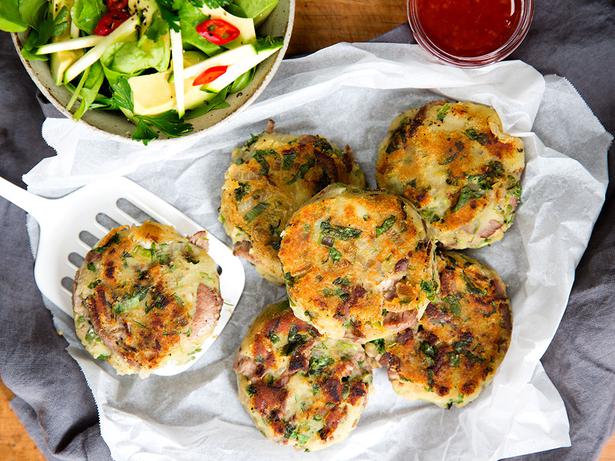 Tuesday April 14, 2015
KUMARA AND LAMB CAKES
Makes 8
• 500g peeled kumara, cut into cubes
• 3 Tbsp olive oil
• 1 onion, diced finely
• 2 cloves garlic, sliced
• 1 Tbsp grated ginger
• 2 tsp soy sauce
• 1 Tbsp oyster sauce
• 1 cup coriander, chopped
• 2 cups cooked shredded lamb
• Salt and pepper
• Flour for dusting
• Sweet chilli sauce to serve
1. Place kumara in a pot of salted water and cook for 10 minutes until soft. Mash roughly with a fork, then cool.
2. Heat 1 tablespoon of oil in a small pan to a medium heat. Add onion and garlic, cooking for 3 or 4 minutes until soft. Stir through the ginger.
3. Place kumara in a large bowl. Add onion mix, soy, oyster sauce and coriander, combining well. Stir through shredded lamb, season with salt and pepper. Divide mixture into eight. Shape into even-sized patties.
4. Heat remaining oil in a frying pan. Dust the patties in flour. Fry for 3 or 4 minutes each side until golden brown.
5. Serve hot with a side salad and sweet chilli.
Share this:
More Food & Drink / Dinner