Kumara Coffee Praline Cakes Recipe
Why wouldn't you want to mix cupcakes and coffee?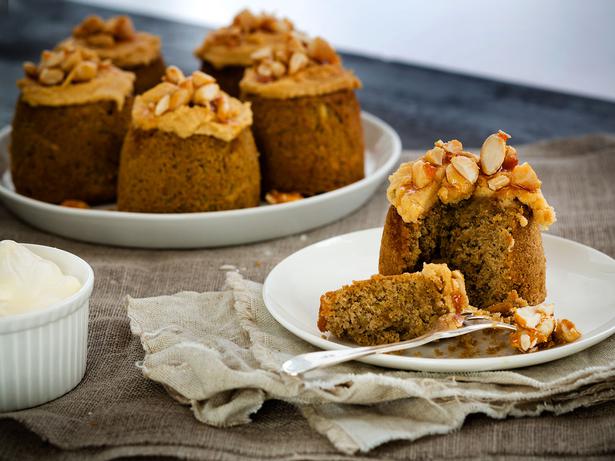 Wednesday Aug. 15, 2012
KUMARA AND COFFEE PRALINE CAKES
Makes 12
150g caster sugar, plus extra for the praline
2 eggs
100g ground almonds
200g kumara, peeled and grated
100g rice flour
2 tsp baking powder
¼ tsp salt
3 Tbsp Espresso coffee, plus extra for icing
Icing sugar
50g softened butter
200g icing sugar, sifted
50g mascarpone
3 tsp Espresso coffee
½ cup caster sugar
½ cup blanched almonds 
1. Preheat oven to 170C. Grease a 12 hole muffin tray or line with paper cases.
2. Beat the eggs and sugar together until pale. Fold in the kumara and ground almonds. 
3. Sift rice flour, baking powder and salt together and fold in with the espresso.
4. Spoon in the tins, leaving a centimetre for rising, then bake for approximately 20 minutes or until the tops spring back.
5. To make the icing, whisk the butter until fluffy and pale then add half the icing sugar with the mascarpone.
6. Whisk, then add the remaining icing sugar and espresso and beat until smooth. Ice the cooled cakes and top with praline.
7. To make the praline, melt the sugar in a warm pan. 
8. When golden add the almonds, quickly stir, then tip on a lightly greased tray. 
9. Leave to set then either chop or pulse in a food processor.
Share this:
More Food & Drink / Recipes