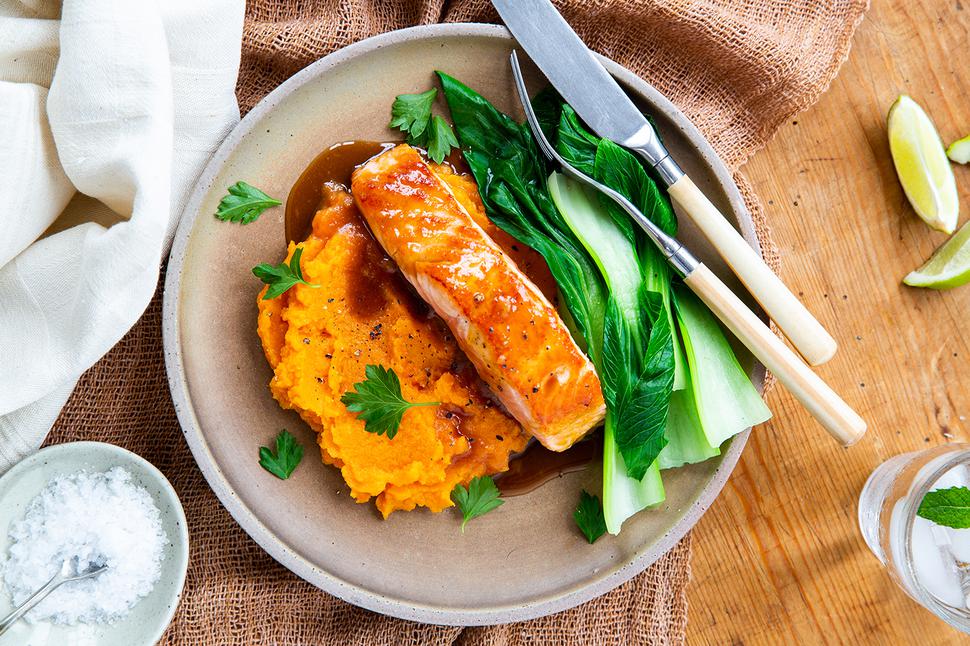 Kumara Mash, Salmon & Greens Recipe
This ultra-creamy mash is a credit to yellow kumara, and just the right amount of butter
Saturday March 20, 2021
Of the kumara varieties, yellow makes a lovely creamy mash. Roasting it adds a delightful flavour and brings out the sweetness.
A knob of butter is the perfect finishing touch. Don't forget to remove any pin bones from the salmon. It's delicious with skin on or off, either way is fine.
KUMARA MASH, SALMON & GREENS
Serves 4
3 yellow kumara, peeled
1 Tbsp olive oil
1 Tbsp butter
1 Tbsp miso paste
1 clove garlic, crushed
1 Tbsp grated ginger
1 Tbsp oyster sauce
2 Tbsp water
1 Tbsp orange zest
4 x 120g pieces salmon, boned removed
3 heads bok choy, sliced lengthways
1. Preheat an oven to 180C.
2. Place the peeled kumara on a lined baking dish, drizzle with the oil and bake for 25 minutes or until completely soft. Remove and puree with the butter.
3. In a small bowl, combine the miso, garlic, ginger, oyster sauce, water and orange zest.
4. Place the salmon into a lined baking dish and smother with the marinade. Bake for 20 minutes or until golden.
5. Steam the bok choy for 4 minutes until cooked through.
6. Serve the salmon on kumara puree with a side of bok choy.
Share this: