Kylee Newton's Tomato Kasundi Recipe
Meet The Modern Preserver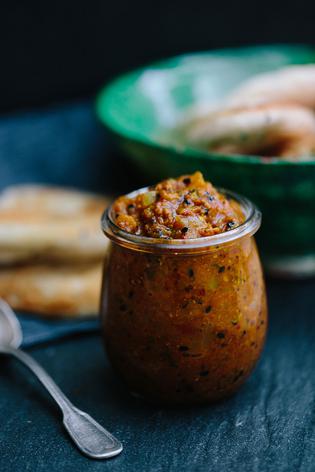 Kiwi preserver Kylee Newton is pickling up a storm across London with her innovative preserves, sold at markets, cafes and now, Selfridges. Here are her tips on making delicious chutneys, relishes and sauces.
When I began making preserves I started with chutneys. It appealed to me as a way of using up fruit and vegetables, a way of practising 'waste not, want not' and creating something that I could store in my cupboard for the months ahead. It seems fitting to start this book off with them.
'What are chutneys and relishes and what is the difference between the two?'
I get asked this a lot on my Newton & Pott stall. Though both are spiced fruit/vegetable chunky condiments cooked and preserved in sugar and vinegars, what differentiates them is how they are cooked. Chutney was introduced to western cultures from India in the 19th century and is generally cooked for longer than its fresher, lighter counterpart.
It has a jammier consistency and should have a resting period to allow the flavours to marry. Relish, which also originated in India, tends to have a shorter cooking time and is crunchier. Relishes tend to vary; some need refrigeration and eating within a week, others can be stored and eaten within 6 months to a year. But the two terms can be used interchangeably due to their similarities.
As for a sauce, this catch-all term can include anything from a fresh, barely cooked assembly of flavours blended into a light liquid, to a slow-cooked reduction of fruits, vegetables, spices, sugars and vinegars blended into a smooth, heavy puree.
This is the best tomato chutney. It comes from India and is full of lots of wonderful Indian spices, which give it a fiery heat. Though very simple to make, it is super-versatile and matches beautifully with many dishes.

TOMATO KASUNDI
Makes 5–6 x 350ml jars
• 1.5kg tomatoes
• 2½ tsp salt
• 9 garlic cloves
• 180g fresh ginger
• 1 tsp coriander seeds
• 10 bird's-eye chillies
• 260g onions
• 350g apples
• 350ml cider vinegar
• 2½ tbsp black mustard seeds
• 50ml olive oil
• 1 tbsp cumin seeds
• 1 Tbsp ground turmeric
• 2½ Tbsp nigella seeds
• ½ tsp whole cloves
• 1 tsp chilli powder
• 200g dark brown sugar
1. Roughly chop the tomatoes, stir in the salt and leave to steep for about an hour. Meanwhile, prep all the other ingredients: peel and chop the garlic and ginger, crush the coriander seeds, finely chop the chillies, peel and finely dice the onions and peel, core and chop the apples into 1cm cubes.
2. Warm the vinegar on a low heat in a small saucepan, add the mustard seeds, then remove from the heat and leave to infuse for 15 minutes.
3. Put the garlic and ginger into a blender and pulse a few times. Add the vinegar and mustard seed infusion and blend into a smooth paste.
4. Heat the oil in a large, heavy-bottomed saucepan on a high heat for 1 minute. Take off the heat for a moment then add the crushed coriander seeds, cumin seeds, turmeric, nigella seeds, cloves and chilli powder.
5. Fry on a moderate heat for 20 seconds, then add the mustard-vinegar paste and the chillies and onions. Fry for a further 5–10 minutes.
6. Drain the excess liquid from the tomatoes and add to the pan with the apples and sugar.
7. Reduce the heat and simmer gently for an hour, stirring occasionally.
8. Ladle into warm, dry sterilised jars and seal.
9. Can be eaten immediately but also great if left to mature in a cool, dark place for 4 weeks if you can.

HOW TO EAT
Lovely with samosas, curries or rice dishes. Or straight out of the jar on naan bread. Keeps for up to a year unopened. Once opened, refrigerate and eat within 4 months.
Measure and prep all the ingredients first, to make it easier and faster to cook.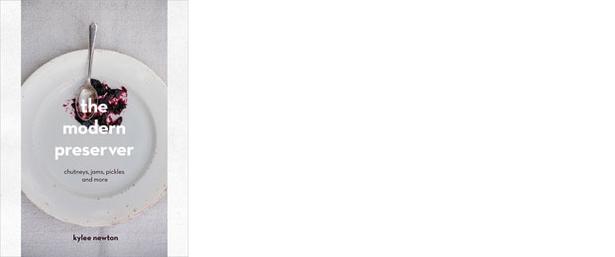 • Extracted with permission from The Modern Preserver by Kylee Newton. Photography © Philippa Langley. Published by Random House UK. $55.
Share this:
More Food & Drink / Recipes