Labne and Lavosh Recipe
This home-made labne and lavosh is not only economic but delicious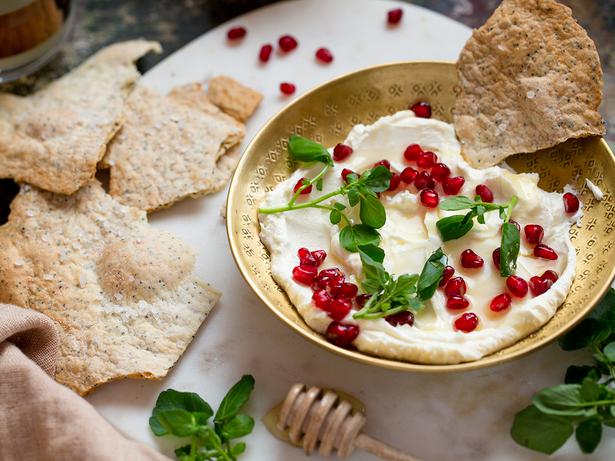 Friday Sept. 1, 2017
You can pay a fortune for lavosh and fancy crackers when, really, they are so simple to make. This home-made version is not only economic but delicious. For beautiful creamy labne, which again takes two minutes' preparation — all you need is Greek yoghurt.
Today's has a clean basic flavour but you can add an array of herbs, zest, olives or other flavours. Roll it into balls or spread on a serving dish with a drizzle of quality olive oil or honey.
LABNE AND LAVOSH RECIPE
Serves 4-6
Labne
500ml Greek yoghurt
½ tsp salt
Lavosh
135g plain flour
2 tsp poppy seeds
½ tsp sugar
20g melted butter
¼ cup milk
Olive oil for brushing
To serve
½ cup pomegranate seeds
1 cup watercress leaves
2 tsp runny honey
1. Firstly, get the labne under way. Stir the yoghurt and salt together then place into a fine muslin cloth on top of a colander over a bowl. Fold it closed and place into the fridge overnight or for up to two days allowing the liquid to drain and the labne to form.
2. Preheat an oven to 160C.
3. For the lavosh, into a bowl place the flour, poppy seeds, sugar and butter. Using your hand, mix together. Add the milk and combine to form the dough. Refrigerate, wrapped, for 20 minutes.
4. Between two sheets of baking paper, roll the dough as thinly as possible. Then slide on to an oven tray. Brush with olive oil. Bake in the oven for 20 minutes or until crispy. Remove from the oven and cool on a rack. Break into pieces and store in an airtight container.
5. To serve the labne, decorate with pomegranate seeds, watercress and honey.
Share this: