Lamb and Potato Rendang Recipe
Try Angela Casley's favourite Indonesian dish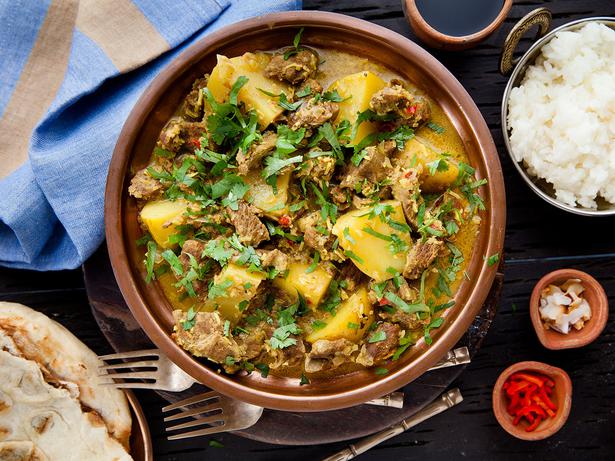 Thursday May 19, 2016
My favourite Indonesian dishes are a rendang curry and a spicy nasi goring. The flavours in this lamb rendang combine to create a heavenly aroma through the house as it slowly cooks in the oven. A little tip when using turmeric: keep it off the bench as it will stain some surfaces.

LAMB AND POTATO RENDANG RECIPE
Serves 4
• 3 red chillies, seeded, chopped roughly
• 1 onion, chopped
• 6 cloves garlic, chopped
• ¼ cup grated fresh ginger
• 2 tsp turmeric
• Zest of 1 lemon
• 2 Tbsp brown sugar
• 1 Tbsp ground cumin
• 1 Tbsp ground coriander
• 1 tsp salt
• ¼ cup desiccated coconut
• ¼ cup tamarind
• 2 Tbsp olive oil
• 600g diced lamb
• 400ml tin coconut cream
• 1 cup water
• 400g potatoes chopped into 3cm pieces
• ½ cup chopped coriander, to sprinkle
• 4 cups steamed rice and naan bread to serve
1. Preheat oven to 170C.
2. Place chillies, onion, garlic, ginger, turmeric, lemon zest, brown sugar, cumin, coriander, salt, desiccated coconut and tamarind in a blender and blitz to a paste. Add the oil and blitz again.
3. Heat an ovenproof casserole dish or frying pan. Add the paste and cook until it becomes aromatic. Add the lamb and brown slightly. Pour in the coconut cream and water. Cover and place in the oven for 1 ½ hours.
4. Stir through the potatoes and place back into the oven for 30 minutes, uncovered, until they are soft and the lamb is tender. Season with salt and pepper.
5. Sprinkle with coriander and serve hot, with rice and naan on the side.
Share this:
More Food & Drink / Recipes