Lamb Casserole Recipe with Herb Dumplings
Try this warming old-fashioned brown casserole with dumplings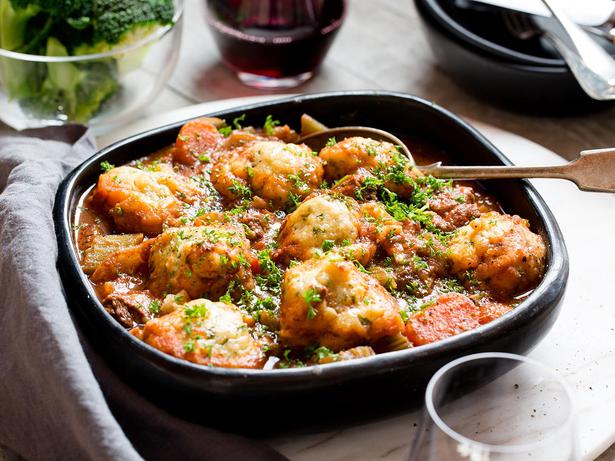 Friday Aug. 4, 2017
A good old-fashioned brown casserole is hard to beat. The dumplings are made from a soft savoury scone mixture; when they are cooked on top of your casserole they absorb its flavours to make a hearty, warming meal, served with green vegetables. The smells coming from the oven are very aromatic.
LAMB CASSEROLE RECIPE WITH HERB DUMPLINGS
Serves 4
2 Tbsp olive oil
1 onion, chopped
4 cloves garlic, crushed
2 sticks celery, sliced
2 carrots, sliced chunky
800g diced lamb, leg or shoulder
1 Tbsp paprika
1 cup beef stock
½ bottle red wine
400g tin diced tomatoes
2 stalks thyme
Salt and pepper
Dumplings
180g self-rising flour
½ tsp salt
80g cold butter, grated
¼ cup chopped parsley
¼ cup tasty cheese
A little water
1. Preheat an oven to 160C.
2. Heat the oil in a heavy-based ovenproof dish. Add the onion, garlic, celery and carrot cooking for 4 or 5 minutes until lightly browned. Remove and set aside.
3. Brown the lamb in 2 or 3 batches. Return the vegetables to the pan. Stir through the paprika for 1 minute.
4. Add the stock, wine, tomatoes, thyme, salt and pepper. Cover and place into the oven for 1½ hours until the meat is tender.
5. While the lamb is cooking, make the dumplings. Into a bowl place the flour, salt and butter. Using your fingers, mix to resemble fine breadcrumbs. Add the parsley and cheese, then a little water to make the dough. Divide into eight pieces.
6. Remove the casserole and place the dumpling balls on top. Return covered to the oven for 30 minutes.
7. Serve the casserole hot with a side of green vegetables.
Share this:
More Food & Drink / Recipes