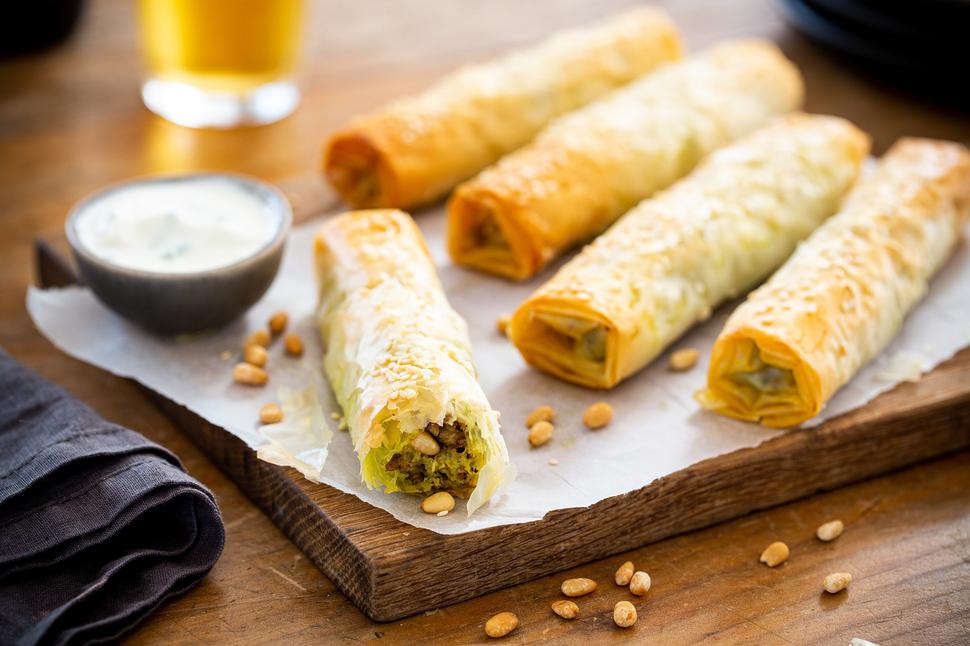 Lamb Filo Cigars Recipe
Crisp and golden filo pastry encases fragrant lamb, pine nuts and feta
Friday Jan. 8, 2021
No fluffing around making pastry here, just whip a packet of filo from the fridge, butter, wrap and bake with this flavoursome minced lamb filling. Seal the remaining filo and use for a another dish within the use by date.
Lamb Filo Cigars
Makes 12

1 Tbsp oil
400g lamb mince
2 shallots
2 cloves garlic, crushed
1 green chilli, chopped
1 tsp cumin
½ tsp allspice
¼ tsp turmeric
100g feta
½ cup toasted pine nuts
Salt and pepper to taste
12 sheets filo
50g melted butter

1. Heat the oil in a frying pan to a medium heat. Add the lamb cooking for 8-10 minutes until lightly browned. Add the shallots, garlic and chilli cooking for a further 4 minutes. Stir through the cumin, allspice and turmeric for 2 minutes. Remove from the heat and cool
2. Crumble through the feta and pine nuts reserving a few for garnish. Season to taste with salt and pepper.
3. When ready to roll the cigars brush 1 piece of filo with butter and fold in half. Place some of the filling on one end. Fold the ends in and brush again. Roll into a cigar shape. Continue with the remainder. Place onto baking paper on an oven tray.
4. Preheat an oven to 180C. Brush the filo with the remaining butter and bake for 15 minutes until crispy and golden.
Share this: