Lamb Loin Chops Recipe
Hawke's Bay lamb takes pride of place on the fanciest of menus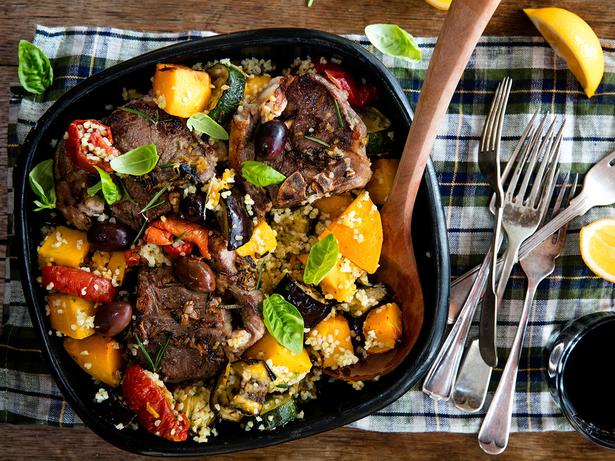 Friday Sept. 23, 2016
You can be anywhere in New Zealand and find Hawke's Bay lamb taking pride of place on the fanciest of menus, and that is the starting point for today's recipes. Nothing beats melt-in-your-mouth loin chops, followed by a good chew on the dainty bones. I've served them with bulgur wheat. A little more rustic than tabbouleh, it is prepared in the same way: soaked, then fluffed with a fork. It is a great alternative to rice or pasta and tasty served like porridge with a little sweetness added. For this recipe, mix the bulgur with citrus, silverbeet and halloumi. Pour over any juices from the lamb pan to add every bit of flavour.
LAMB LOIN CHOPS RECIPE WITH VEGETABLES AND BULGUR WHEAT
Serves 4
6 lamb loin chops, fat removed
2 cloves garlic, crushed
1 Tbsp chopped rosemary
Zest and juice of 1 lemon
½ cup semi-dried tomatoes, halved
2 Tbsp olive oil
500g pumpkin, peeled and cubed
1 aubergine, cut into cubes
1 courgette, sliced
Salt and pepper to taste
1 Tbsp pesto
1 ½ cups chicken stock
1 cup bulgur wheat
¼ cup kalamata olives
1 cup basil leaves
Yoghurt to serve
1. To marinate the chops place into a bowl with the garlic, rosemary, lemon and tomatoes. Stir to combine, cover, then leave to marinate for 2 hours or overnight.
2. Preheat oven to 200C.
3. Place the oil, pumpkin, aubergine and courgette into a baking dish. Toss to combine and season with salt and freshly ground pepper. Place into the oven for 20 minutes, toss and return for a further 10 minutes. Toss through the pesto.
4. Bring the chicken stock to the boil in a pot. Remove from the heat and pour in the bulgur wheat. Leave to soak for 15 minutes then fluff with a fork. Fold through the vegetables in the baking dish.
5. Heat a frying pan to a high heat. Pat the chops dry then brown on both sides. Place on top of the vegetables and sprinkle over the olives. Pour over any marinade. Put the dish back in the oven for 10 minutes.
6. Sprinkle with basil and serve hot with a dollop of yoghurt.
Share this:
More Food & Drink / Recipes