Lamb Recipe Stuffed with Olive and Feta
The aroma of ingredients in this roast will fill the kitchen as it cooks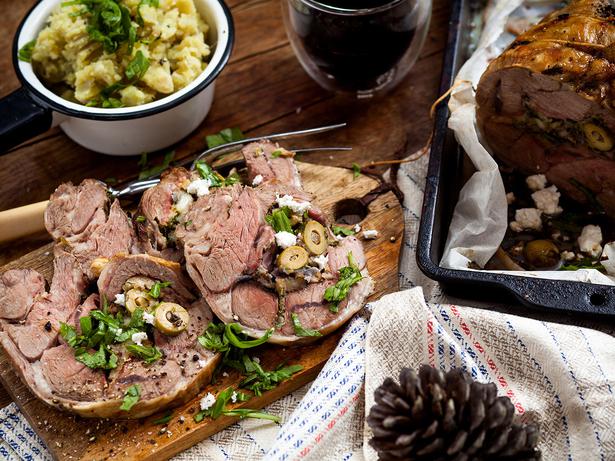 Friday April 8, 2016
The shoulder is one of my favourite cuts of lamb. It has a little extra fat and is moist and delicious, perfect to stuff and roll. The feta, olives and anchovies add a wonderful flavour, and the aroma will fill the kitchen as it cooks. I serve it with chunky mashed kumara and green vegetables.

LAMB SHOULDER RECIPE STUFFED WITH OLIVE AND FETA
Serves 4
• 2 Tbsp olive oil
• 1 onion, chopped finely
• 3 cloves garlic, crushed
• 6 anchovies, chopped
• 1 cup fresh breadcrumbs
• 1 Tbsp chopped fresh rosemary
• 1 egg
• 150g crumbled feta
• 12 green or black pitted olives
• ¼ tsp salt and freshly ground pepper
• 1kg boneless lamb shoulder
• 1 cup red wine or stock
1. Preheat an oven to 170C.
2. Heat the oil in a frying pan. Add the onion, garlic and anchovies, cooking for 3-4 minutes until softened and fragrant.
3. Combine the onions, breadcrumbs, rosemary, egg, feta, olives, salt and pepper in a large bowl.
4. Lay the shoulder out flat on a bench. Spread the stuffing on top. Roll tightly and tie with string. Place it in a baking dish, pour the stock or red wine around the base and cover tightly with tin foil. Place in the oven for 1½ hours, then remove the foil for a further 30 minutes to brown the top. Remove and allow the lamb to sit for 10-15 minutes before slicing.
Share this:
More Food & Drink / Recipes