Lamb Shanks Recipe
Try Angela Casley's lamb shanks for a succulent treat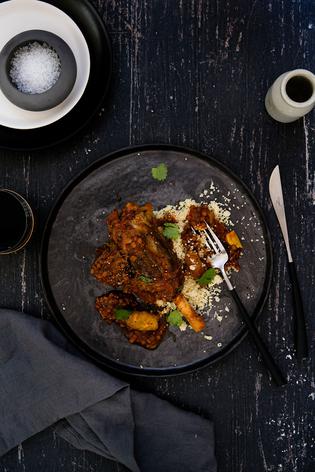 Lamb shanks used to be cheap cuts but they became all the rage a few years ago. Now they are a succulent treat. Allow plenty of time to let these shanks cook slowly. I will often throw in some vegetables — parsnip, carrot or baby potatoes — to cook alongside them. When it comes to serving the shanks, handle with care so as not to lose the meat off the bone. I like to serve them on hot couscous, with the juices running over, and a sprinkle of coriander. The meat should just melt in your mouth.

LAMB SHANKS
Serves 4
• 1 Tbsp oil
• ¼ cup seasoned flour for dusting
• 4 lamb shanks
• 1 onion, chopped roughly
• 3 cloves garlic, crushed
• 1 Tbsp grated fresh ginger
• 1 tsp each of cumin, cinnamon, turmeric
• ½ tsp nutmeg
• 1 Tbsp brown sugar
• 400g tin chopped tomatoes
• 2 cups yams
• 420g tin lentils, drained and rinsed
• 1 cup beef or chicken stock
• Salt and freshly ground pepper
• Coriander to garnish
• 4 cups soaked couscous to serve
1. Preheat an oven to 150C.
2. Heat the oil in a pan. Dust lamb shanks with seasoned flour then brown on all sides and place in a casserole dish.
3. Fry the onion and garlic for 2 to 3 minutes. Add the spices, stirring through until fragrant. Tip this into the casserole. Rinse the pan with a little of the stock to ensure no flavour is left behind.
4. Add the brown sugar, tomatoes, yams, lentils and stock to the casserole dish. Season with salt and freshly ground pepper. Place in the oven for 2 hours; stir and continue to cook for 1½- 2 hours until the lamb is tender and almost falling from the bone.
5. Garnish with coriander and serve with hot couscous.
Share this:
More Food & Drink / Recipes