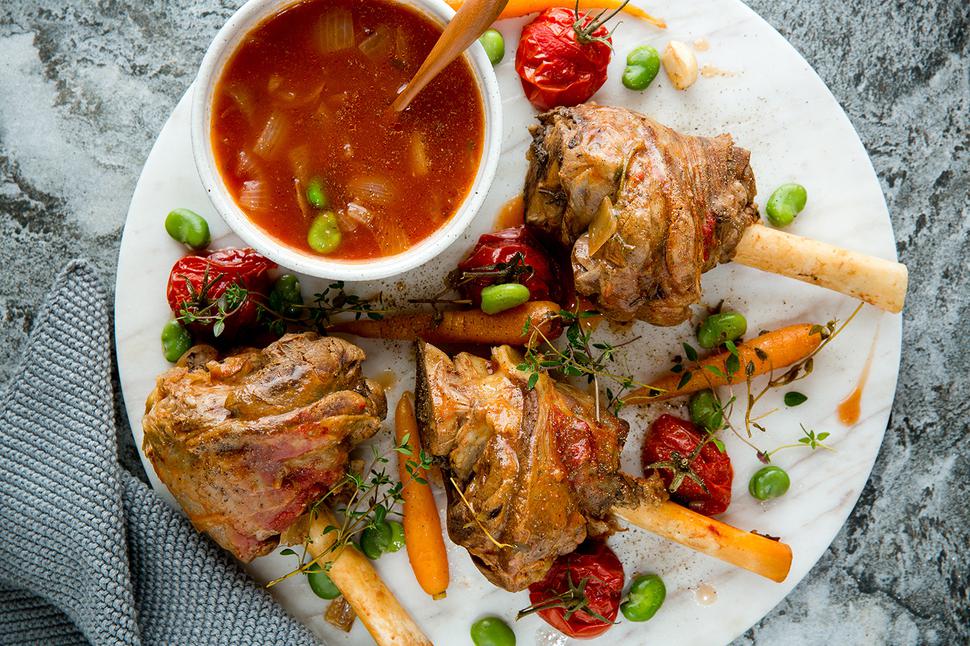 Lamb Shanks With Broad Beans Recipe
Slow-cooked to juicy perfection, this classic lamb shank dish will fast become a favourite family dinner
Friday Oct. 20, 2017
These days lamb shanks are a treat and it is hard to remember that when I was growing up on our farm we used to feed them to the dogs. Now, they are a delicacy, cooked long and slow until the tender meat just falls from the bone. I like to serve these juicy shanks on a bed of creamy mashed potato. To make the meat go further, however, you can shred it from the bone and fold through pasta, or make it into a pie.
LAMB SHANKS WITH BROAD BEANS
Serves 4
4 lamb shanks
1 Tbsp oil
1 onion, chopped roughly
6 cloves garlic, peeled, left whole
1 cup white wine
1 cup crushed tomatoes
1 cup hot chicken stock
8 baby carrots
4 stalks thyme
1 tsp dried mixed herbs
1 tsp salt
Freshly ground pepper
2 tsp brown sugar
6 fresh tomatoes on the truss
1 cup blanched, shelled broad beans
1. Preheat an oven to 220C.
2. Place lamb shanks in an ovenproof dish and bake for 30 minutes to remove excess fat. Remove the shanks and discard the fat. Turn the oven down to 140C.
3. Place shanks in a casserole dish.
4. Heat oil in a frying pan and brown onion and garlic. Add to the shanks. Pour in the wine, tomatoes and stock and add the carrots, thyme, mixed herbs, salt, pepper and sugar. Bake for 3½ hours. Place whole tomatoes on top and return to the oven for 25 minutes.
5. Remove from the oven, stir through the broad beans and serve with your favourite vegetables.
Share this: