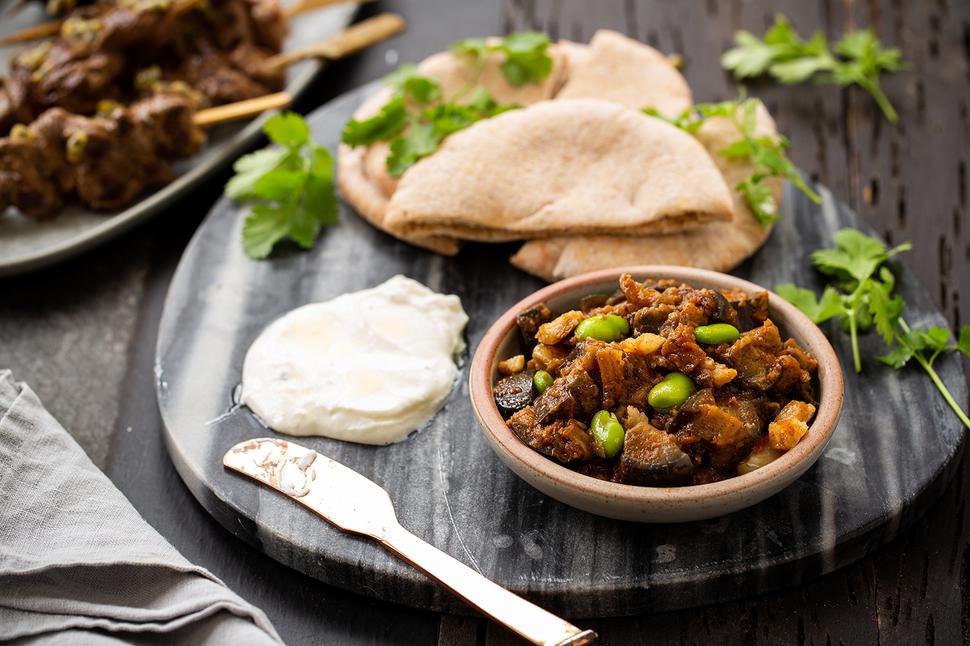 These Easy Lamb Skewers Feature A Side Of Braised Eggplant
Everything you could want in a pita pocket: smoky lamb, aromatic eggplant and a smattering of Greek yoghurt
Wednesday April 27, 2022
Get the braised eggplant underway first. The flavours will only get better after time. The key to cooking eggplant is to cook it well; there is nothing worse than it being half-cooked, leaving a dry taste in your mouth.
LAMB SKEWERS WITH BRAISED EGGPLANT RECIPE 
Serves 4
Eggplant
2 Tbsp olive oil
1 Tbsp butter
1 onion, grated
4 cloves garlic, grated
1 tsp each paprika, cumin, coriander
2 sprigs thyme
4 prunes, diced
1 eggplant, diced into 1cm pieces
¼ cup water
1 cup hulled broad beans
1 cup chopped coriander
Kebabs
600g diced lamb
1 Tbsp olive oil
½ tsp salt, cumin, paprika
To serve
Pita pockets, Greek yoghurt, coriander
1. In a heavy-based pan warm the oil and butter. Add the onion and garlic, cooking for 4 minutes. Add the spices, thyme and prunes, stirring through for a couple of minutes until fragrant. Stir through the eggplant, then cover on a low heat for 20 minutes, allowing it to sweat and soften. Add the water after 20 minutes with the broad beans and coriander and cook, covered, for a further 15 minutes. Stir once or twice during cooking. Season and set aside.
2. Place the lamb in a bowl with the oil and spices. Thread on to skewers. Cook in a hot frying pan or on a barbecue until cooked through.
3. Serve the skewers with the eggplant, pita pockets, yoghurt and extra coriander.
Share this: