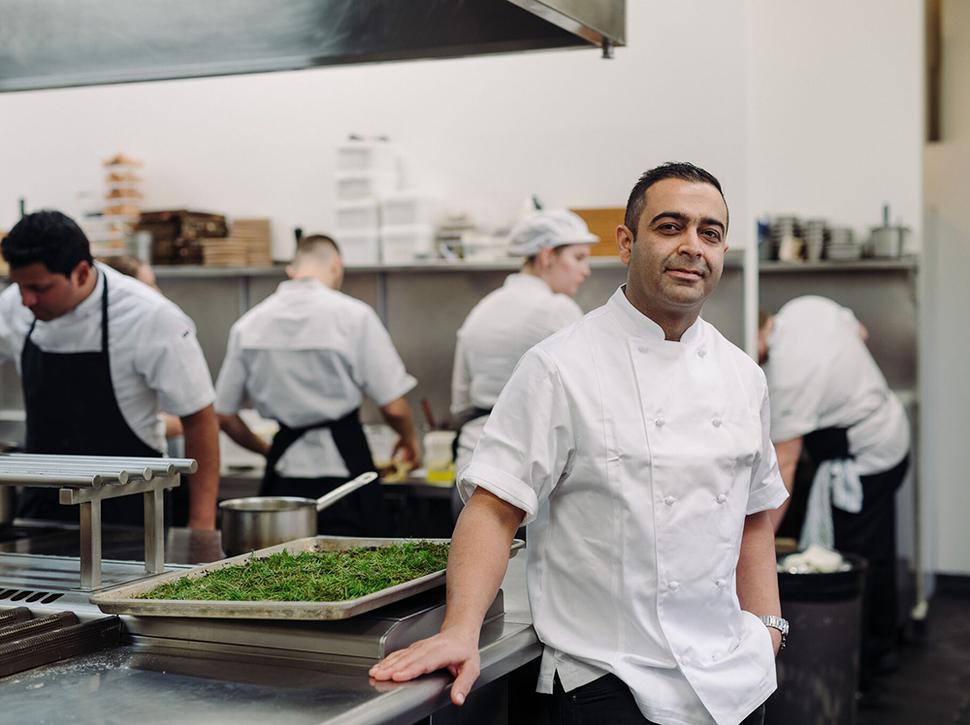 Learn The Secrets Behind The Culinary Excellence of Sid Sahrawat
Put home cooking skills to the test with three fine-dining recipes straight from the award-winning kitchens of Cassia, Sidart and Sid at The French Cafe
Wednesday Oct. 10, 2018
The highly regarded kitchen secrets of Sid Sahrawat will be served hot at this year's Taste of Auckland as head chefs Nishant Arora of Cassia, Jason Kim of Sidart, and Lesley Chandra of Sid at The French Cafe will each recreate three of his master dishes in a series of hands-on masterclasses.
Held in the Electrolux Chefs' Secrets kitchen on the Sunday, 16 lucky attendees will get to cook alongside these leading chefs, pick up tips and tricks along the way, and enjoy the meal afterwards with a glass of Te Pa wine. Tickets are $15 on a first-come, first served basis so it's best to arrive early to secure your spot.
READ: Taste Of Auckland Turns 10 & Moves To Auckland's Waterfront
On the menu will be Cassia's pan-roasted snapper, with coconut, kokam and parsnip; Sidart's Goan-style fish with cabbage, celeriac and chilli crumble; and cured kingfish with pickled ginger and pistachio from Sid at The French Cafe. 
"Our style and ethos is about showing the best local and seasonal produce, creating clean plates of food that are not only appealing to the eye but accentuate the natural flavours of the ingredients," says Sid. "It's not about using complicated ingredients and techniques but ensuring you cook with passion and infuse flavour into whatever you cook. I love the confidence and joy people get when they create something delicious." 
• Entry price includes a welcome cocktail, masterclass and meal, a glass of wine and a sweet treat. For full event details, visit Tasteofauckland.co.nz
Test you master chef skills at home with recipes for all three dishes below.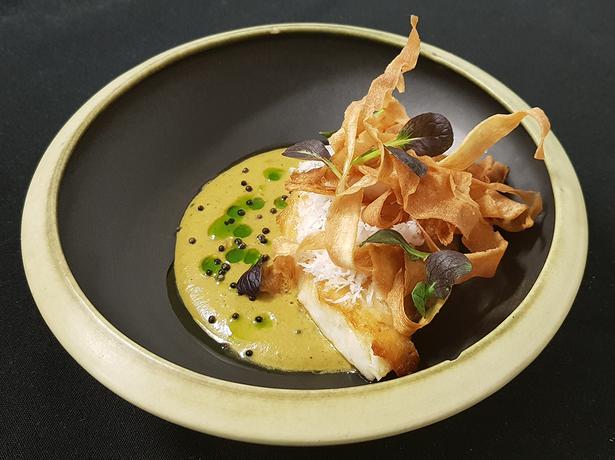 Cassia's pan-roasted snapper, with coconut, kokam and parsnip. Photo / Supplied

PAN-ROASTED SNAPPER WITH COCONUT, KOKAM AND PARSNIP 
Cassia, Serves 4

Fish
Snapper, 600  grams skinned and boned

Kerala Spice Mix
5 grams peppercorns 
5 grams mace  
30 grams fennel seeds                                     
5 grams cloves 
20 grams cumin seeds 

1. Mix all the ingredients together on a tray.
2. Toast them at 160 degrees for 12 minutes to release the flavours from spices.
3. Blend the mix in spice grinder into fine powder. (You can always make a bigger batch of this spice mix and keep it in your pantry for later use)


Kerala Sauce
5 onions, sliced
40 grams ginger and garlic paste
5 grams turmeric powder
25 grams Kerala spice mix
200ml coconut cream
40 grams desiccated coconut
5 grams curry leaves
5 grams mustard seeds
10 grams, or a handful of Kokam

1. Heat oil in a pot, add onions and cook out till golden 
2. Add ginger garlic paste, add spices and the handful of kokam and cook out for about ten minutes.  
3. Take the pot off from heat and blitz into a fine sauce while adding coconut cream for consistency and water as well. 
4. Season, and then add temped mustard seeds, curry leaves and desiccated coconut to the sauce.

Whole Coconut                                                                     
1 large coconut

1. Grate the fresh coconut using a microplane, for a fluffy texture.

Parsnip Chips
500 grams of large parsnips                                                 
Canola oil to fry

1. Peel the parsnips lengthwise to obtain thick long ribbons.
2. Heat up oil to 140 degrees. Gently fry parsnip until its golden brown.

Curry Leaf Oil
50 gms curry leaves
125 mls oil   

1. Fry curry leaves at 140 degrees.
2. Drain. Blitz with Oil. Warm the oil to 50 degrees to extract maximum flavour.

TO SERVE
1. Pan fry fish, place on top of Kerala sauce.
2. Put a generous amount of grated coconut and parsnip chips on top of fish.
3. Drizzle with curry leaf oil.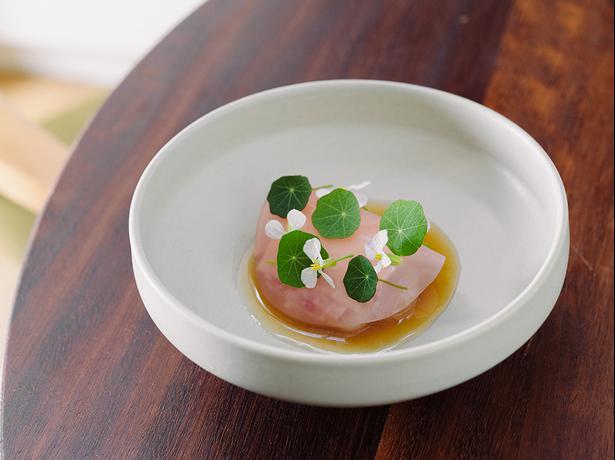 CURED KINGFISH WITH PICKLED GINGER AND PISTACHIO 
Sid at the French Café, Serves 4-6
Pickled ginger sheet
500 grams pickled ginger
250 white soy 
350 water
8 grams agar agar

1. Blitz all ingredients together in a blender and then pass through a fine sieve, heat with agar until boiling and then spread out into required sheets.
Kingfish cure
500 grams salt 
500 grams white sugar
10grams coriander seeds
10grams fennel seeds
1 lemon peel
1. Mix all ingredients together and cure kingfish for one hour.
Nam Jim dressing
100 grams coriander roots
3 red chillies 
4 cloves of garlic 
20 grams ginger
150ml white soy
100ml lime juice
150 grams palm sugar
1. Start by pounding all dry ingredients in a mortar and pestle and slowly add the white soy and lime juice
2. Leave to infuse for a few hours.
3. Strain through a sieve.
Pistachio cream
200 grams pistachio nuts
100ml coconut cream
50ml shiso vinegar 
50ml white soy
1. Toast nuts in the oven at 160 C for four minutes
2. Place all ingredients together in blender and blitz till fine purée like consistency. This may need a little water to adjust thickness.
Pickled daikon

1. Cut daikon into rounds and dress with Nam Jim dressing before serving
TO SERVE
1. Sit the cured kingfish on a few tablespoons (or to preference) of the pistachio cream.
2. Dress the outside with the Nam Jim dressing to preference.
3. Top the fish with a sheet of pickled ginger.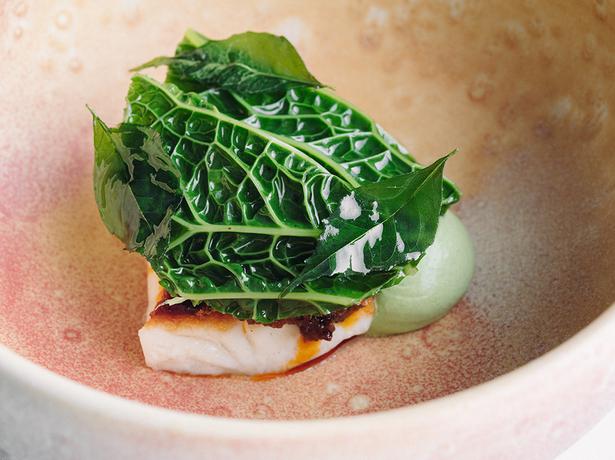 GOAN STYLE FISH WITH CABBAGE, CELERIAC AND CHIILI CRUMBLE 
Sidart, Serves 4
Fish
Hapuka, gutted, gilled and skinned
1. Trim out all the bloodline and portion to 200 g each
Garam Masala 
5 grams cumin seeds
5 grams fennel seeds
10 grams black peppercorn
5 grams cinnamon stick
5 grams green cardamon
3 grams turmeric
1. Toast in the oven at 160 C for two minutes.
2. Blitz well in a spice grinder. 
Chettinad Sauce 
250 grams brown onion, finely diced 
75 grams canola oil
15 grams ginger, finely chopped
15 grams garlic, finely chopped
10 grams garam Masala 
15 grams tomato paste 
5 grams chilli paste
15 grams tamarind paste
30 grams fresh coconut crumb
30 grams coconut cream 
5 grams poppy seeds
10 grams curry leaves
10 grams ginger, julienned
1. Place the finely diced onion and oil in a pot, and caramelise it well until its golden brown
2. Add ginger and garlic to cook out
3. Add garam masala and cook until it releases the aroma from the spices
4. Add tomato paste and chilli paste and cook for another ten minutes
5. Once the tomato and chilli paste is cooked, add tamarind paste, fresh coconut crumb and coconut cream
6. After ten minutes add poppy seeds, curry leaves and giner
7. Season with lemon juice and salt 
Savoy Cabbage
4 pieces of savoy cabbage, use only green leaves
50 grams white soy sauce
50 grams curry oil 
1. Marinate the savoy cabbage with white soy sauce and curry oil and place in a vacuum bag to compress for two minutes. 
Celeriac Puree
1 whole celeriac, diced
300 grams milk
300 grams cream 
1. Peel the celeriac and dice into 1cm cubes.
2. Place into a medium size pot with milk and cream
3. Cook until its soft and then blitz in a blender
4. Season with salt.   
Chilli and Coconut Crumble 
1 teaspoon canola oil
8 grams garlic cloves
2 tsp white sesame seeds
125g desiccated coconut
2 tsp Kashimiri chilli powder
Salt to taste 
1. Heat the oil in a small pan and add garlic cloves and cook untit its soft
2. Add the white sesame seeds and cook until golden brown
3. Turn off the head and add desiccated coconut mix it well
4. Add chilli powder and season with salt 
TO SERVE
1. Place the pan on high heat until smoking hot
2. Season the hapuka well with sea salt, place them on the pan, and caramelise well
3. Place in the oven for two minutes until cooked
4. Warm the Chattinad sauce, celeriac puree and quickly warm the cabbage on a saucepan with a knob of butter
5. Place the fish on the plate, with the celeriac puree next to the fish
6. Scatter some chilli coconut crumb around the fish and cover with the savoy cabbage 
Share this: