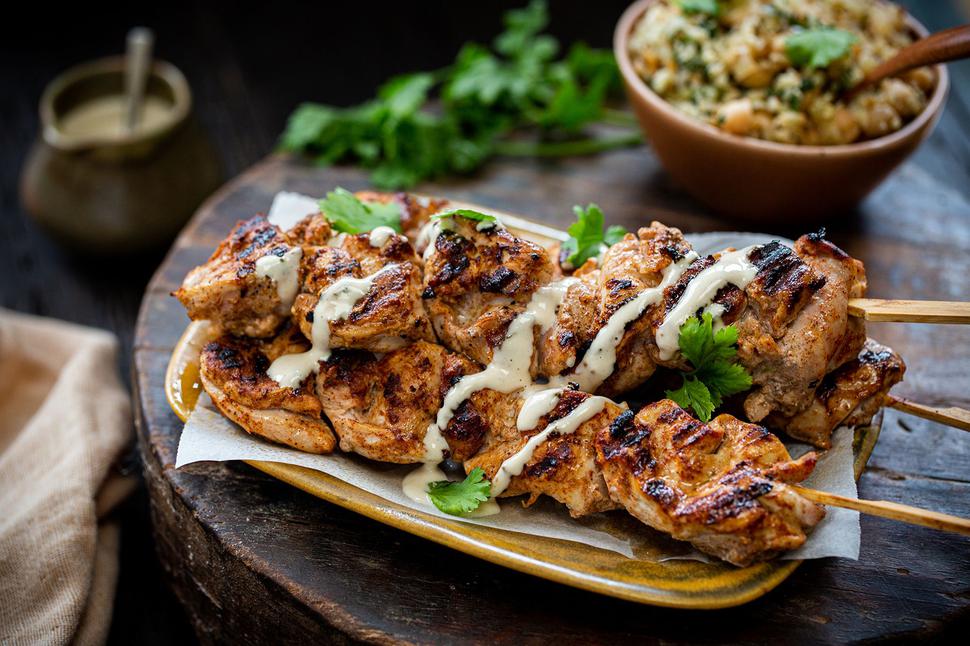 Lebanese Chicken Kebabs With Cauliflower Rice Recipe
The barbecue beckons for this flavourful meal
Saturday Nov. 21, 2020
Pump up the barbecue for these quick-to-marinate chicken thighs. While they are marinating, get the cauliflower cooked and ready; it is almost nicer at room temperature. If you are like me, double the tahini drizzle and use it on salads over the next couple of days.
LEBANESE CHICKEN KEBABS WITH CAULIFLOWER RICE
Makes 6 kebabs
600g boneless chicken thighs
½ cup unsweetened yoghurt
1 tsp cumin
1 tsp paprika
½ tsp salt
2 tsp runny honey
Cauliflower Rice
2 Tbsp olive oil
½ onion, finely diced
2 cloves garlic, chopped
½ tsp cumin
½ tsp coriander
Pinch chilli flakes
3 cups cauliflower rice
1 cup drained chickpeas
½ cup chopped coriander
Tahini Drizzle
¼ cup tahini
2 Tbsp lemon juice
2 tsp runny honey
1. Cut the thighs into thirds and place into a large bowl. Combine the yoghurt, cumin, paprika, salt and honey together and pour over the chicken, tossing to combine well. Set aside for at least 1 hour. Thread onto skewers.
2. For the rice, heat the oil in a frying pan. Add the onion and garlic, cooking for 2 or 3 minutes to soften. Stir in the cumin, coriander and chilli flakes for 2 minutes. Add the cauliflower and chickpeas until hot through. Stir through the fresh coriander.
3. For the tahini dressing, combine all the ingredients in a jar and shake well.
4. Heat a barbecue grill until hot. Cook the chicken skewers for a few minutes each side until cooked through. Serve hot with the rice and tahini drizzle.
Share this:
More Food & Drink / Recipes