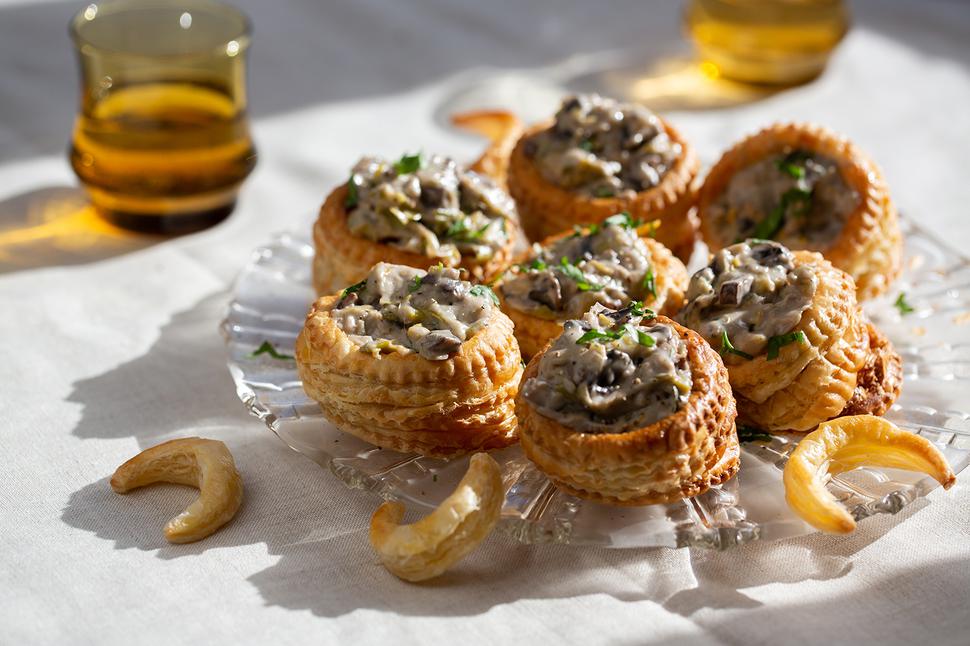 Leek & Mushroom Vol-Au-Vent
The crispiest, flakiest dinner party snack comes filled with creamy winter vegetables
Monday June 14, 2021
Crisp light pastry with a creamy vegetarian leek and mushroom filling — these vol-au-vents take me back. You can use any of your favourite fillings to encase in these pastry delights. Another favourite of mine is oysters in a rich creamy sauce.
LEEK AND MUSHROOM VOL-AU-VENT RECIPE
Makes 8
400g ready-rolled puff pastry
1 egg yolk mixed with 1 Tbsp water
20g butter
1 leek
2 cloves garlic, crushed
300g mushrooms, chopped
Pinch dried tarragon
2 Tbsp flour
½ cup milk
½ cup sour cream
Salt and pepper to season
1. Preheat an oven to 200C. Line a baking tray with paper.
2. Lay the pastry on a lightly floured bench. Using a 8cm cutter, cut 16 circles. Place 8 circles on a baking tray. Then using a 5cm cutter, cut a circle in the other half of the cases, reserving the circles. Brush the 8 complete circles with egg wash, then place the cut cases on top and brush again.
3. Place the centre cut rounds on the baking tray and brush with eggwash. Place into the oven for 15 minutes until puffed and golden. Remove and cool.
4. For the filling, melt the butter in a pot. Add the leek and garlic, cooking slowly for 8 minutes until completely softened. Add the mushroom cooking down for 2 or 3 minutes. Stir through the tarragon and flour for 2 minutes, then add the milk, cooking until thickened. Stir through the sour cream. Season with salt and pepper.
5. Fill your pastry cases with the leek and mushroom filling and place into the oven to heat through for 10 minutes. Garnish with chopped parsley. Serve with small centre pastries on the side.
Share this: