Leek, Potato and Ginger Soup Recipe
Keep a big pot of this flavoursome soup in the fridge for cold days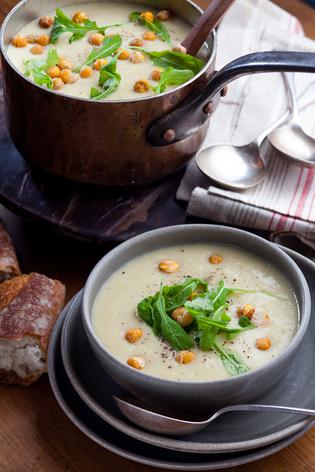 For this hearty leek and potato soup (vichyssoise), I've included a hint of ginger to add a little peppy flavour. I have also garnished it with crunchy toasted chickpeas roasted in the oven for 40 minutes with a little salt and oil, then topped the soup with rocket leaves. Keep a big pot of this soup in the fridge for cold days; its velvety texture never ceases to amaze me.
LEEK, POTATO AND GINGER SOUP RECIPE
Serves 4
20g butter
1 onion, chopped
1 large leek, chopped
1 stick celery, chopped
3 cloves garlic, chopped
2 tsp grated ginger
2 cups cubed potatoes
3 cups chicken stock
Salt and pepper, to taste
1 cup cream
To garnish, 1 cup toasted chickpeas
1 cup baby rocket
1. Into a large pot place the butter and melt. Add the onion, leek, celery, garlic, ginger and potatoes. Cover and let it cook for 5 minutes to sweat all the vegetables.
2. Add the chicken stock. Bring to a simmer for 15 minutes until all the vegetables are soft. Blend until perfectly smooth. Season with salt and pepper.
3. Just before serving stir through the cream.
4. Serve hot, topped with rocket leaves and crispy chickpeas.
Share this:
More Food & Drink / Recipes