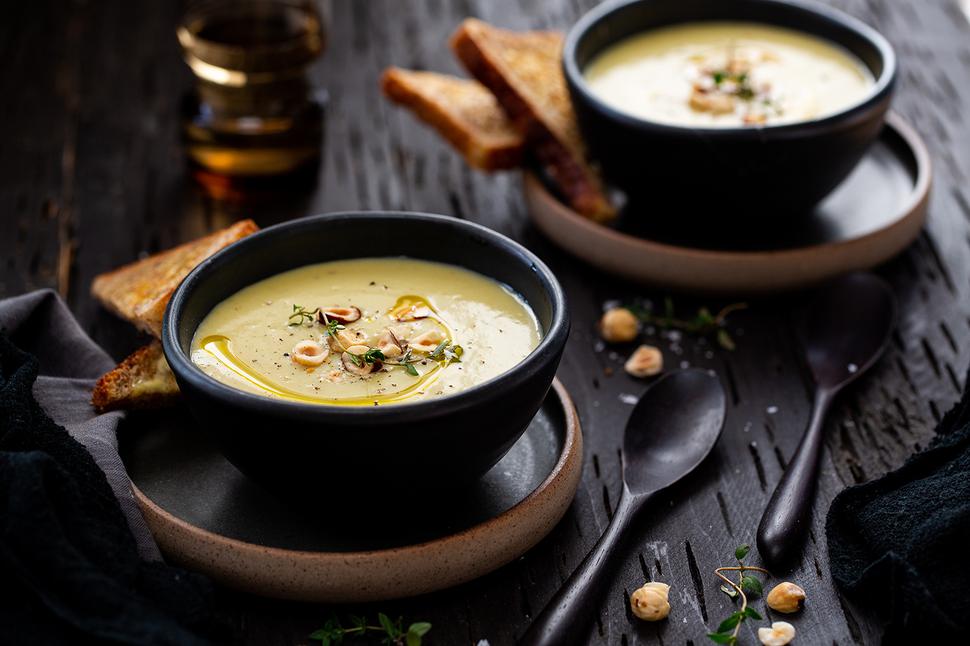 Leek, Potato & Hazelnut Soup With Truffle Oil
The secret to souped-up soup? A drizzle of truffle oil
Saturday June 5, 2021
The final touch to this delicious soup, apart from the truffle oil, is some hot toasty bread to go alongside. Don't forget a good layer of butter. Ready in 30 minutes, this soup is a great mid-week dinner, or serve it as a starter to a fancy mid-winter dinner party.
LEEK, POTATO AND HAZELNUT SOUP WITH TRUFFLE OIL
Serves 4
20g butter
1 large leek, chopped
3 cups chopped potato
4 cups vegetable stock
1 tsp thyme leaves (dry) or 1 Tbsp fresh
1 tsp salt and freshly ground pepper
½ cup toasted and peeled hazelnuts
Truffle oil, to drizzle
1. Melt the butter in a large pot. Add the leek and potato, then cover and cook slowly until the leeks have softened. Add the stock, thyme, salt and pepper, bringing to a simmer for 15 minutes. Remove and cool for 10 minutes before pureeing until smooth.
2. Serve steaming hot with a sprinkle of toasted hazelnuts, a drizzle of truffle oil and buttered toast.
Share this: