Baked Leeks Recipe with Prosciutto and Ciabatta Crumble
Quit using leeks as a base to your dish and make them the hero ingredient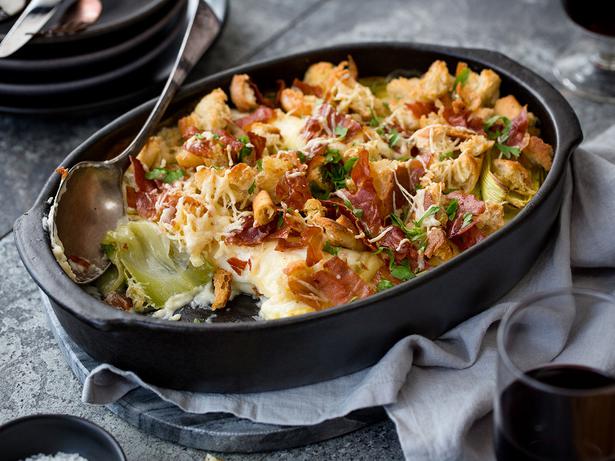 Friday April 21, 2017
I love the humble leek and you'll find them here — large, green and a bit muddy from all the rain, if you are growing your own. There are few things worse than an undercooked leek so ensure you cook them until soft. Sliced and pan-fried leeks in a good dollop of butter are delicious also. Add some chorizo to today's dish and it becomes a meal on its own. There are endless possibilities with leeks — don't forget they are far more than just a base for soups and stews.

BAKED LEEKS RECIPE WITH PROSCIUTTO AND CIABATTA CRUMBLE
Serves 6
4 slices ciabatta, torn in rough pieces
4 slices prosciutto
2 leeks
Salt and pepper
20g butter
2 cloves garlic
2 Tbsp flour
½ cup white wine
1½ cups milk
½ cup grated parmesan
2 Tbsp chopped parsley
1. Preheat an oven to 180C. Place the ciabatta on a baking tray crisp in the oven for 10 minutes. Remove.
2. In a frying pan, cook the prosciutto until crispy, then tear into rough pieces.
3. Wash the leeks and trim ends. Cut into 6cm pieces. Boil a pot of salted water and cook the leeks for 5 minutes until soft. Cut them in half lengthways and place in a baking dish.
4. Melt the butter in a saucepan with the garlic. Add the flour and cook for 1 minute. Stir in the wine, the gradually add the milk stirring until slightly thickened. Season with salt and pepper. Pour over the leeks, sprinkle with parmesan, ciabatta croutons and prosciutto. Place into the oven for 10 minutes until golden, hot and bubbling.
Be inspired by the good things in life. Sign up now to receive emails from Viva, and twice a week you will be sent the latest news, profiles, videos, fashion shoots, competitions and more.
Share this: