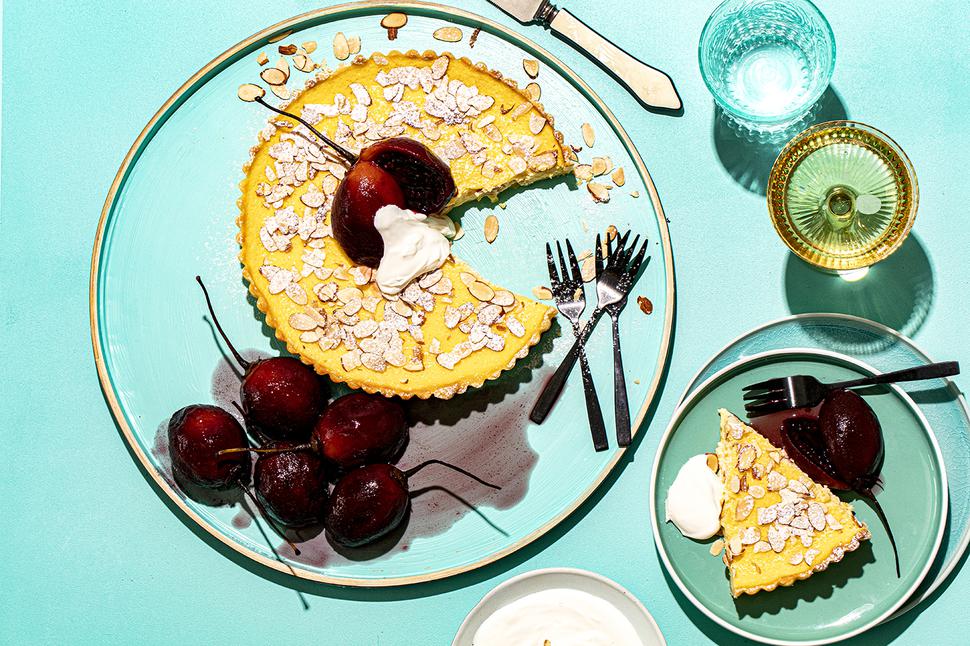 Lemon Almond Tart With Mulled Wine Tamarillos
Spiced tamarillos feel right at home with this sweet, zesty and entirely luscious dessert
Saturday Oct. 2, 2021
This is a showstopper of a tart that's best eaten at room temperature, so take it out of the fridge before serving. Using the zest from a homegrown lemon adds beautiful intense flavour — but store-bought will do. The deep and dark tamarillos add a great kick and colour to this tart, with plenty of gorgeous mulled wine flavours.
LEMON ALMOND TART WITH MULLED WINE TAMARILLOS RECIPE
Serves 8
Tamarillos
6 tamarillos
½ cup brown sugar
1 cup red wine
½ cup orange juice
1 star anise
1 cinnamon stick
Pastry
1 ½ cups plain flour
100g butter, cubed
2 Tbsp caster sugar
1 egg yolk
2 Tbsp cold water
Filling
4 egg yolks
2 eggs
½ cup caster sugar
Zest of 1 lemon
¼ cup lemon juice
300g sour cream
½ cup cream
¼ tsp almond essence
½ cup lightly toasted sliced almonds
Icing sugar for dusting
Yoghurt to serve
1. For the tamarillos: Place a little cross at the base of each one, then plunge into boiling water for 2 minutes. Remove and peel, leaving the stalks connected.
2. Place the sugar, wine, juice, star anise and cinnamon in a medium-sized pot and bring to a simmer. Add the tamarillos, turning occasionally for 10 minutes until softened. Cool completely in the liquid.
3. For the pastry: Place the flour, butter and sugar in a food processor and blitz until it resembles breadcrumbs. Add the single egg yolk and water, blitzing again to form the dough. Roll out on a lightly floured bench to 3mm thick. Line a 23cm tart tin with pastry and refrigerate for 20 minutes.
4. Heat oven to 180C. Line the pastry with paper and rice then bake blind for 20 minutes. Remove the paper and rice and bake for a further 5 minutes to dry the base. Turn the oven to 160C.
5. For the filling, place the yolks, eggs, sugar, zest, juice, sour cream, cream and almond essence in the food processor and blitz together. Let it sit for 10 minutes then pour into the tart shell. Bake for 40 minutes or until just set in the middle — a little wobble is fine. Remove and cool completely. Store in the fridge.
6. Serve with a sprinkling of almonds, a dusting of icing sugar, yoghurt and tamarillos.
Originally published in Viva Magazine – Volume One
Share this: