Lemon Coconut Custard Cake Recipe
This lovely lemon cake will make a delicious addition to your baking repertoire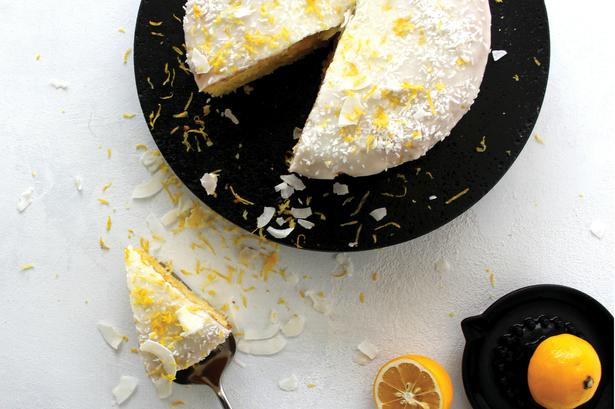 Tuesday Nov. 28, 2017
The parents of Devonport's Stanley Bay School have created this lovely, useful cookbook full of classic family recipes to raise money for a new playground. From breakfast through to afternoon tea, these are recipes you'll come back to over and over again. Devonport dwellers from further afield have also been called in to help: each recipe includes a wine match from International Master of Wine, Bob Campbell, and there's even a recipe from Olympic pole vault medallist Eliza McCartney. This cake is a long-time favourite of the Parker/Levy family — enjoy!
LEMON COCONUT CUSTARD CAKE

1¼ cup self-raising flour
¼ cup custard powder
1 cup caster sugar
½ cup desiccated coconut
1 Tbsp lemon rind
1 Tbsp lemon juice
1 cup milk
120g butter, melted
2 eggs
Icing
1¼ cup icing sugar
2 Tbsp lemon juice
½ tsp grated lemon rind
½ cup shredded coconut
Lemon zest, to serve
1. Preheat oven to 180C. Grease and line a 20cm round cake tin.
2. Sift flour and custard powder together in a large bowl. Stir in sugar, coconut and rind.
3. Add milk, butter and eggs. Using an electric mixer beat for 2–3 minutes until smooth and pour mixture into prepared pan.
4. Bake for 35–40 minutes. Cool in pan for 5 minutes before turning onto a wire rack to cool completely.
5. To make the icing, sift icing sugar into a heat-proof bowl. Stir in juice and rind. Mix until smooth. Place over a saucepan of simmering water and heat gently, stirring until mixture is of spreadable consistency.
6. Spread icing over cooled cake. Sprinkle with shredded coconut and serve topped with lemon zest.
• Extracted from The Devonport Village Cookbook edited by Heather Barker Vermeer, photography by Rachael Hamilton. $49 from Devonportvillagecookbook.co.nz. 

Share this: