Lemon Curd Pies Recipe
Eleanor Ozich shares a recipe for the perfect honey-sweetened treat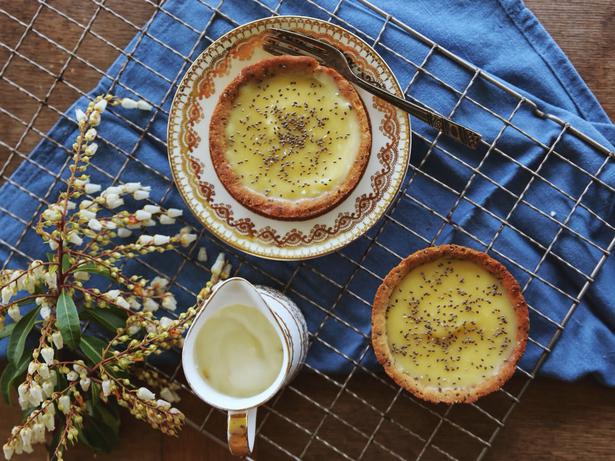 Thursday June 11, 2015
These honey-sweetened lemon curd pies have a delicate and slightly earthy pastry made from buckwheat, chia and almonds. The curd filling is only lightly sweetened making them far too easy to eat. You won't stop at one!

HONEY-SWEETENED LEMON CURD PIES
Makes 6 small pies, or 1 large pie 
For the pastry
1½ cups ground almonds
1 cup buckwheat flour
2 Tbsp chia seeds, plus a little extra for sprinkling
2 Tbsp honey, maple or agave syrup
4 Tbsp extra virgin coconut oil, or unsalted butter
3-4 Tbsp cold water
For the lemon curd filling
½ cup freshly squeezed lemon juice (about 5 lemons)
4 Tbsp honey, maple, or agave syrup
4 Tbsp extra virgin coconut oil, or unsalted butter
4 free range eggs
1. Preheat the oven to 180C, and grease 6 small pies tins, or 1 large pie tin with coconut oil or butter.
2. Add the ground almonds, flour, chia seeds, honey and coconut oil into a food processor. Pulse until the mixture resembles course crumbs. With the food processor running on low, gradually add the water one tablespoon at a time, until the dough starts to come together into a ball. Using your hands, press the dough evenly into the prepared pie tin or tins. Prick the pastry with a fork.
3. Bake in the oven for 8-10 minutes or until golden brown. Leave to cool completely.
4. While the pie crust is cooling, you can prepare the lemon curd.
5. In a small saucepan over low heat, melt the coconut oil and honey together. Remove from the heat and leave to cool. Add the eggs and lemon juice, and whisk until well combined. Return to a low heat, and continue to whisk until the curd becomes lovely and thick, and small bubbles start to pop at the surface.
6. Remove from the heat and leave to cool.
7. Spoon the curd into the pie crusts, and even out with the back of a spoon. Sprinkle with chia seeds.
Serve chilled with a dollop of natural yoghurt or cream if desired.

* Gluten free
* Dairy free
* Naturally sweetened
• For more from Eleanor Ozich see petite-kitchen.com
Share this:
More Food & Drink / Desserts