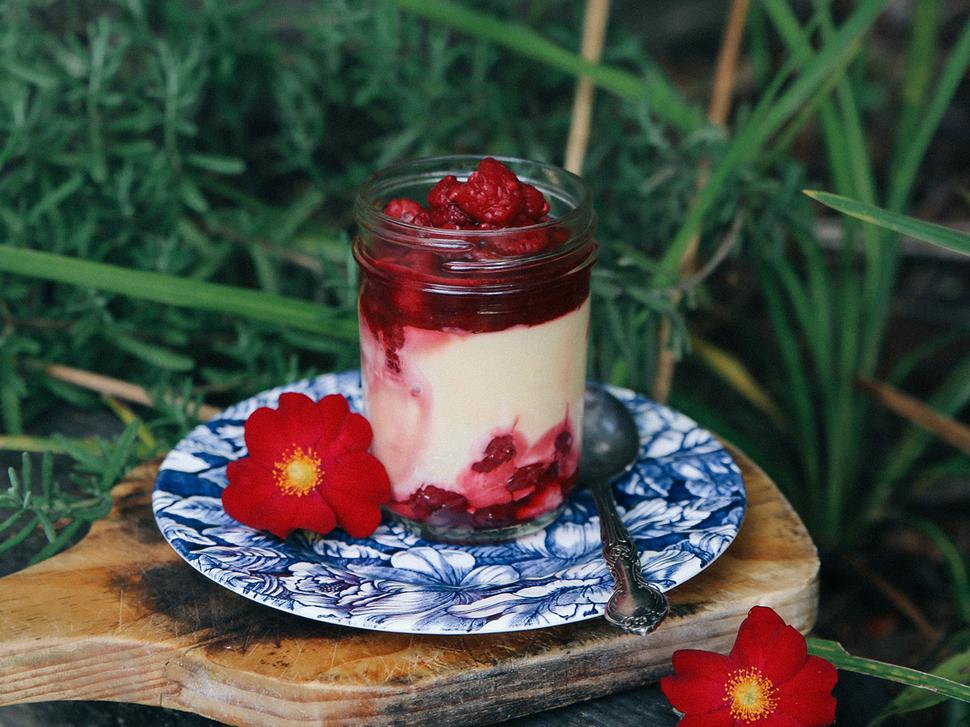 Lemon Mousse Recipe with Poached Raspberries
Try this delicious lemon mousse recipe by Eleanor Ozich
Thursday Feb. 4, 2016
Scarlet coloured raspberries are the most exquisite of fruits. Served in unadorned simplicity, layered within a lemony cream mousse. Thyme honey brings a slightly herbal note to this elegant dessert. Serve in appropriately small portions, and devour with a teaspoon.

LEMON MOUSSE RECIPE WITH POACHED STRAWBERRIES
Serves 4-5 
For the poached raspberries:
• 1½ cups fresh or frozen raspberries
• 1 tbsp thyme infused honey
• 2-3 tbsp water
For the mousse:
• 450ml cream
 • juice of two lemons
• ¼ cup honey
1. To make the poached raspberries, combine all ingredients in to a small saucepan over medium heat. Bring to a soft boil, then simmer for 2 minutes or so, until the berries release their juices and become tender. Set aside to cool while you prepare the mousse.
2. Combine the cream and honey in a small saucepan over a low heat. Bring to the boil slowly, whilst stirring to dissolve the honey. 
3. Once it comes to the boil, let the cream bubble away gently for three minutes or so, stirring continuously. 
4. Remove from the heat and add the lemon juice, stirring thoroughly as you do so. It will begin to thicken.
5. Taste, and add a little more lemon juice or honey if you prefer. The mousse should be sweet, tangy and creamy. 
6. Layer the poached raspberries and lemon mousse in 4-5 small glasses or jars. 
7. Place in the fridge for 2 hours or so until chilled.
• For more from Eleanor Ozich see petite-kitchen.com
Share this:
More Food & Drink / Recipes