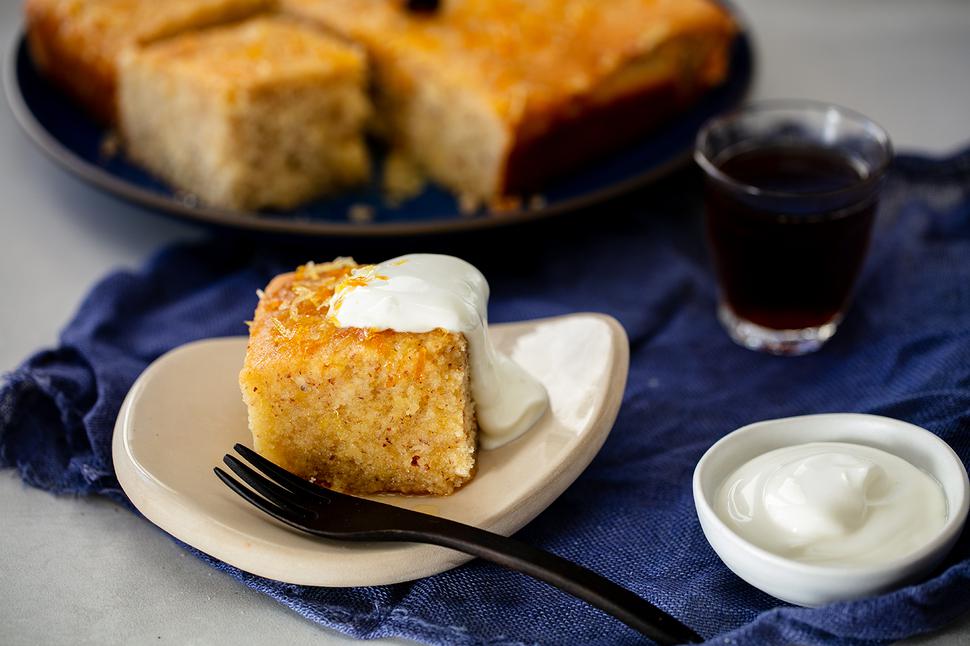 Lemon Syrup Semolina Cake With Greek Yoghurt
This gorgeously sticky, citrusy cake gets better with time
Saturday May 15, 2021
For this delicious sticky cake, I always make plenty of syrup, and keep extra aside to pour over it before serving. The flavour of this cake gets even better after being in the fridge for a couple of days. Serve with Greek yoghurt to add the finishing touch.
LEMON SYRUP SEMOLINA CAKE RECIPE
Serves 8
3 eggs, separated
100g butter, softened
1/3 cup olive oil
¼ cup caster sugar
½ cup Greek yoghurt
1 cup semolina
1 cup ground almonds
100g plain flour
2 tsp baking powder
¼ cup lemon juice
Zest of 2 lemons
Syrup
1 cup sugar
1 cup water
Zest from 1 lemon
½ cup lemon juice
1 cinnamon stick
Greek yoghurt, to serve
1. Preheat an oven to 170C. Line an 20x 20cm cake tin with baking paper.

2. Beat the egg whites until stiff.

3. In a large bowl beat the egg yolks and butter until well combined. Then add the oil and sugar, beating until light and creamy. Fold through the yoghurt, semolina, almonds, flour, baking powder, zest and juice until batter is smooth. Gently fold in the egg whites. Pour into the tin, smooth the top and bake for 45 minutes or until soft and bouncy to touch.

4. While the cake cooks prepare the syrup. Into a small pot place the sugar, water, lemon zest, juice and cinnamon, bringing slowly to the boil for 5 minutes. While the cake is warm pour over the syrup, before removing it from the tin.

5. Serve with a dollop of Greek yoghurt.
Share this: