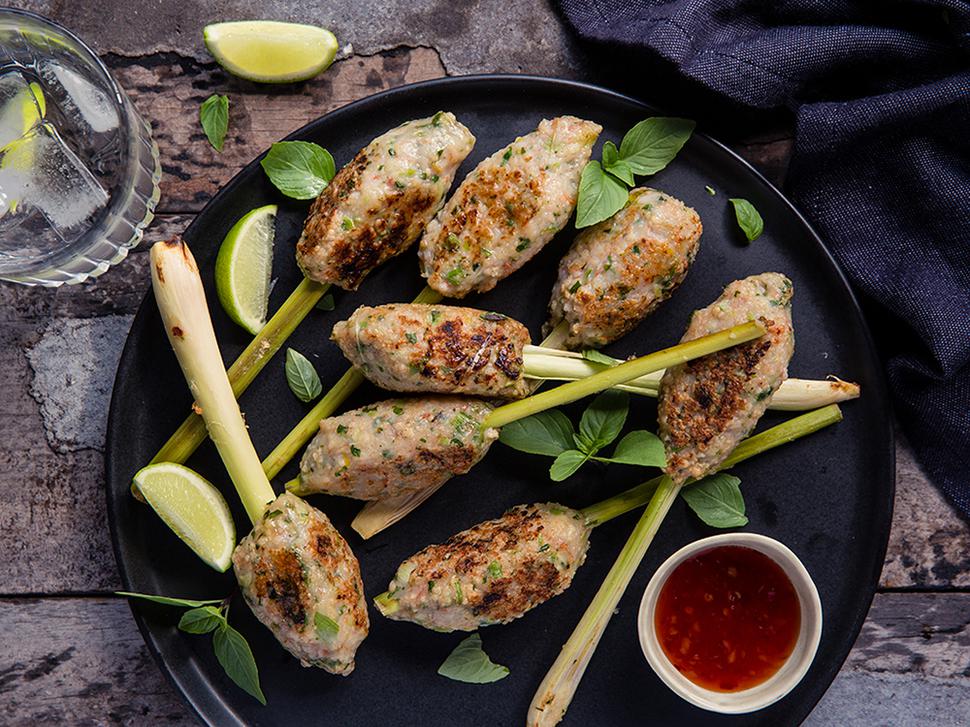 Lemongrass Prawn Skewers
Try these deliciously fragrant crowd favourites served with sweet chilli sauce
Friday April 26, 2019
Don't forget to remove the tails before placing the prawns into the kitchen whizz. You may laugh, but I have heard of someone who found these were a little gritty. Try using lemongrass as a skewer, as I have today, wrapping the delicious prawn mixture around them. Keep it simple, sweet chilli straight from the bottle makes a delicious dipping sauce.
Prawn Skewers
Makes 12
Ingredients
500g raw prawns, tails removed
1 clove garlic
2 spring onions, chopped
1 Tbsp soy sauce
1 Tbsp sesame oil
2 tsp fish sauce
½ tsp cumin
½ cup chopped coriander
½ cup fresh breadcrumbs
12 stalks lemongrass or chopsticks
Oil for cooking
Sweet chilli sauce to serve
1. Into a food processor place the prawns, garlic, spring onions, soy, sesame, fish sauce, cumin, coriander and breadcrumbs. Blitz until well combined.

2. With damp hands place large tablespoons of the mixture around the stalks of lemongrass, moulding into a log shape. Place on baking paper and into a fridge for at least 30 minutes.

3. Heat a frying pan to a medium heat. Add a little oil. Cook the skewers on all sides to brown, then continue to cook through.

4. Serve hot with sweet chilli for dipping.
Share this: