Petite Kitchen's Lemony Almond Cupcakes Recipe
Try these delicious cupcakes topped with honey-roasted grapes by Eleanor Ozich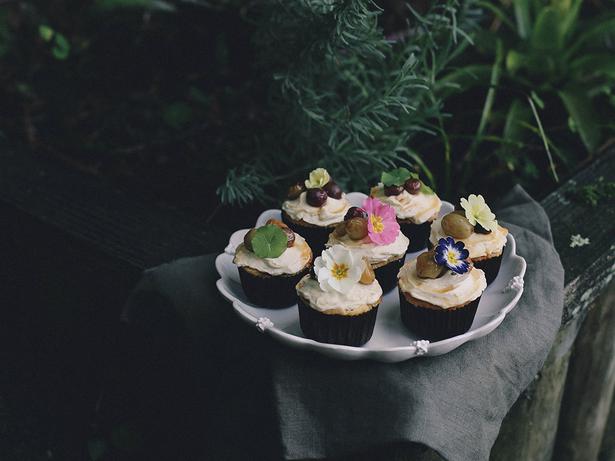 Thursday Aug. 20, 2015
These fancy little almond cupcakes are topped with a lemony cream cheese vanilla bean frosting and honey-roasted grapes. Touched with a light citrus zing, and a moist nutty texture from the ground almonds, these wholesome treats are, mercifully, less sweet than most other cupcakes. 

LEMONY ALMOND CUPCAKES
Makes 12
• 3 free-range eggs
• 1/4 cup honey, maple or rice malt syrup
• 1/3 cup coconut oil, or unsalted butter
• Grated zest of two lemons
• 1 tsp baking soda
• 1 tsp apple cider vinegar
• 2 cups ground almonds
Icing
• 1 cup cream cheese
• 2 Tbsp runny honey
• Zest & juice of one lemon
• 1 tsp pure vanilla extract
Roasted grapes
• 1 bunch of grapes, rinsed well
• 2 Tbsp runny honey
• 2 Tbsp coconut oil, melted
1. Set the oven to 180C.
2. Place the grapes in a small baking dish and drizzle with the honey and coconut oil. Roast for 20 minutes or so, until the skins begin to wrinkle and the fruit starts to bleed juice. Remove from the oven and leave to cool.
3. Turn the oven down to 160C, and grease or line 12 cupcake tins with paper cases.
4. Add the eggs, honey, coconut oil or butter, lemon zest, baking soda and vinegar in to a food processor or blender.
5. Process for a minute or so, until the batter is smooth and creamy.
6. Put the ground almonds in a large mixing bowl. Fold in the wet batter until well combined. Spoon into the prepared muffin tins.
7. Bake for 25 minutes or until a skewer inserted comes out clean. Leave to cool completely while you prepare the icing.
8. Combine the cream cheese, honey, lemon juice, zest and vanilla in a mixing bowl. With an egg beater, beat until creamy and smooth.
9. Decorate each cupcake with the cream cheese icing, then top with 2-3 grapes and edible flowers, if using. The cakes will keep for 2-3 days in an airtight container.
Share this:
More Food & Drink / Desserts