Lentil and Pumpkin Hummus Recipe
This hummus recipe is a delicious alternative to the traditional chickpea kind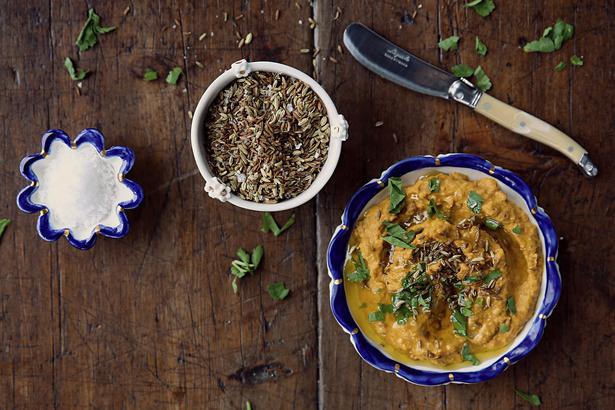 Thursday Sept. 1, 2016
A nice change from the ordinary, this spiced pumpkin and lentil hummus recipe brings a sense of intrigue and delight. Lemon, cumin and turmeric give warmth to this rustic dip. And, yes, it goes without saying that a little toasted bread or crackers are necessary for dipping.
LENTIL AND PUMPKIN HUMMUS RECIPE
For the hummus:
1 ½ cups cooked lentils
1 ½ cups cooked pumpkin puree
2 Tbsp tahini or almond butter
Juice of half a lemon
1 ½ tsp ground cumin
1 tsp turmeric
2 Tbsp olive oil
To serve:
Italian parsley, roughly chopped
Toasted sesame, fennel and cumin seeds
Extra virgin olive oil for drizzling
Combine all ingredients in a food processor, then process until the hummus becomes a desired texture. I prefer mine to be a little chunky and rustic. Season with sea salt and freshly ground pepper.
To serve, sprinkle with parsley, toasted seeds and drizzle with extra virgin olive oil.
Store in an airtight container in the fridge for 3-4 days.
Share this:
More Food & Drink / Recipes