Lentil and Scotch Fillet Salad Recipe
Try this tasty lentil and scotch fillet salad for summery days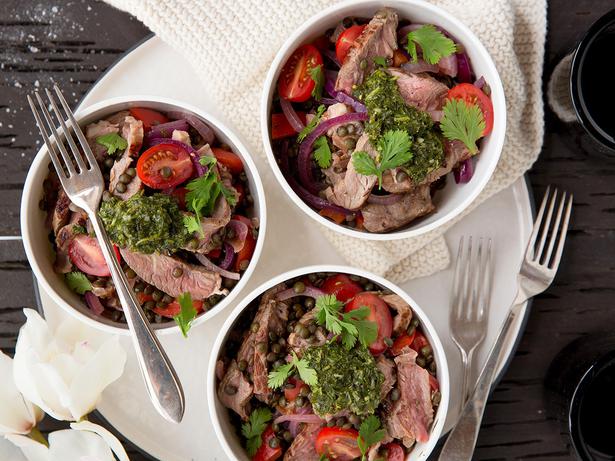 Friday Nov. 25, 2016
For this lentil salad, slice the steak thinly to help make a little go a long way. Don't be tempted to remove all the fat, a little helps render the meat and keep it juicy and tender. Cook the lentils until they are slightly al dente; these are far nicer than the tinned variety. The herb dressing adds a delightful flavour.
LENTIL AND SCOTCH FILLET SALAD
Serves 4
1 cup Puy lentils
1 red onion, sliced
1 red pepper, cut into small pieces
100g cherry tomatoes, halved
Salt and pepper to taste
1 Tbsp butter
400g scotch fillet
Coriander leaves to garnish
Dressing
1 cup each of parsley and coriander
1 Tbsp capers
1 clove garlic, crushed
Zest and juice of 1 lime
½ cup oil
Salt and pepper to taste
1. To make the dressing, into a blender place the herbs, capers, garlic, lime and oil. Whizz until well combined then season with salt and pepper. Place into a bowl to serve.
2. Place the lentils into a pot, cover well with water, bringing to a simmer for 20 minutes or until cooked but not mushy. Drain then set aside.
3. In a large bowl combine the red onion, red pepper, cherry tomatoes, salt and pepper.
4. Heat the butter in a frying pan under just smoking. Cook the steak for 4 minutes each side or until done to your liking. Set aside to rest for ten minutes.
5. To serve add half the dressing to the lentils and stir through. Slice the steak thinly and add to the lentils. Serve on a platter or in bowl and top with the remaining dressing and coriander leaves.
Share this: