Light and healthy recipes for spring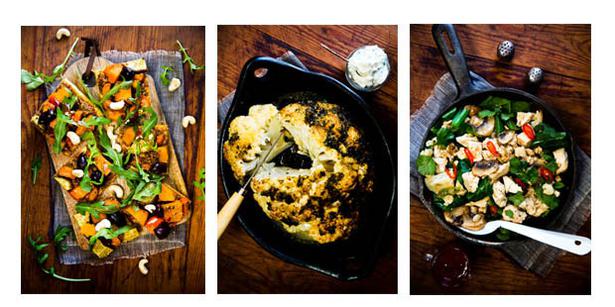 Friday Sept. 19, 2014
It's about now that we start to want a lighter, healthier diet - as the weather warms up and wearing shorts and bikinis inches a little bit closer. There seems to be more people pounding the streets early in the morning, and the numbers at my swimming squad have increased with enthusiasm for the summer ahead.
I've been exploring some good healthy options in the kitchen that are still hearty and taste delicious.
Today's unusually flavoured chickpea-based slice is wonderfully versatile and especially good for those of you who are gluten-free. Best eaten fresh, I have simple roasted vegetables to create a pizza effect.
Home-made sundried tomato and peppery rocket pesto gives it a refreshing flavour and goes really well with the chickpeas. Of course, you could use a store-bought pesto.
I have kept this simple but you may like to add spices to the vegetables while roasting, then drizzle olive oil on the slice at the end. To serve, either cut it into finger-sized pieces or eat a slab, like a pizza. It's a meal in one.
For my next dish, don't be daunted by cooking a whole cauliflower. It makes for a great centrepiece - and talking point - at a dinner. Serve it in a baking dish for ease, cut it into wedges and serve with a simple salad for lunch or eat it on its own as a meal. Adding fresh herbs and goat's cheese complements the cauliflower and adds great flavour.
When I'm cooking dinner for myself, I have two standbys - eggs on toast or scrambled eggs! If I feel like something a little bit more indulgent, this tofu scramble takes just 10 minutes from start to me enjoying it in front of the TV while no one is looking. Try this and you will welcome the unexpected tastes and flavours.

Recipes:
• Chickpea slice with warm roast vegetable salad
Share this:
More Food & Drink / Recipes