Food Heroes: Lisa King and Michael Meredith, Eat My Lunch
Meet the stars of the food and drinks industry, Kiwi entrepreneurs determined to make the world a better place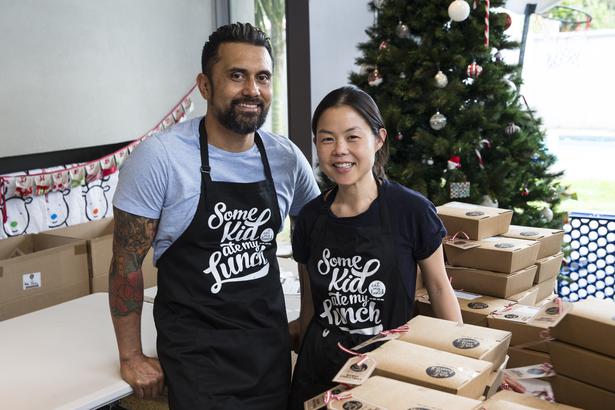 Wednesday Dec. 30, 2015
Every weekday, Lisa King and her partner Iaan Buchanan get up at 5am, put on loud dance music and welcome 25 or so strangers into their kitchen. Their aim: to make 2000 lunches, half of which will go to Kiwi kids who might not otherwise be able to afford to eat during the school day.
It's hard to believe Eat My Lunch, the initiative they launched with top chef Michael Meredith six months ago, has been going for such a short time. By mid-December, they'd made 180,000 lunches, of which 89,000 went to kids in 27 decile one and two schools in Auckland. Customers opt in on a buy-one-give-one basis. For $10 they get a lunch delivered to their workplace, while a Kiwi kid in need gets one free. Or they can choose to give two lunches, an option appealing to Eat My Lunch followers overseas.
The feedback from schools has made all the early starts worth it, with teaching staff noting a marked improvement in students' behaviour and concentration.
"The kids just seem happier," says Lisa. Volunteers turn up to the couple's Mt Eden home at 6.30am and work for three hours alongside Michael, whose evenings are spent serving fine-dining plates at his Dominion Rd restaurant, Merediths, and his mornings buttering and filling slices of bread. Businesses also participate as a team-building exercise.
Then Michael and Lisa drop the lunches off to the schools.
"It's pretty amazing," she says. "The kids get to know you. They love Michael, they can really relate to him. It's incredibly satisfying, the hardest but most rewarding work I've ever done."
Both Lisa and Ian left high-paid marketing positions to take on Eat My Lunch, craving something "more meaningful". She's found it in Eat My Lunch, even if, with four children under the age of 8, it also comes with a healthy dose of sacrifice, particularly time with her family in the mornings.
"But they're all at school now, and they wake up to a household full of strangers who they get to talk to which is pretty cool."
Among the core group of 50 volunteers are doctors, teachers, stay-at-home mums, musicians, "a whole range of people I would've never met in my old life. It doesn't matter what skills you have because anyone can make a sandwich. It transcends all those social boundaries."
Next, they hope to bring Eat My Lunch to other parts of the country. And after the summer break they'll move to a bigger custom-built space with a commercial kitchen in Galatos St. "It'll allow us to make more lunches and have more people be a part of it."
Share this: