Little and Friday Banoffee Pie Recipe
Try Kim Evans' winning dessert, made with All Good bananas for Fair Trade Fortnight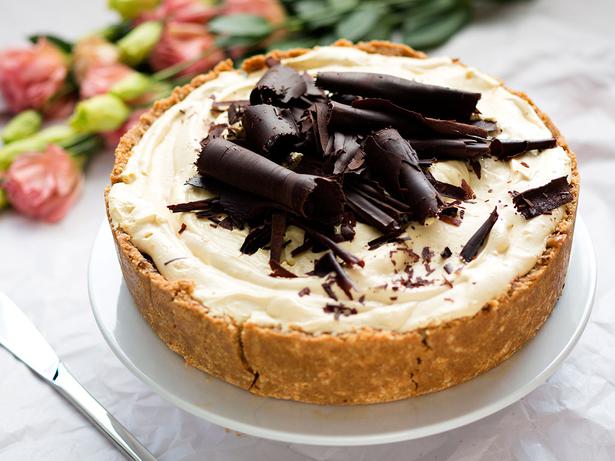 Wednesday May 20, 2015
BANOFFEE PIE
Serves 12-15 people
• 600g cookie crumbs
• 200g walnuts
• 250g unsalted butter, melted
• 150g melted Whittaker's chocolate
Filling
• 250g unsalted butter
• 200g brown sugar
• 2 x 380g tins Highlander caramel filling
• Pinch of salt
Topping
• 10 All Good bananas
• Squeeze of lemon juice
• 1 double espresso coffee shot
• 4 cups creme diplomat (see recipe below) or whipped cream
Garnish
• Whittaker's chocolate, melted into chocolate curls
1. In a kitchen whizz, chop biscuits to a breadcrumb-like texture. Add butter and walnuts and mix.
2. Line base only of an 11" or 28cm springform tin with baking paper. Press crumb mixture into base and sides until firm. (I used a glass to pack down firmly, slightly damp to prevent sticking).
3. Place tin in refrigerator for 20 minutes to firm up. Pour melted chocolate over cooled base and return to fridge to set.
4. To make filling, melt butter and sugar together in a saucepan until sugar is dissolved. In another saucepan, heat Highlander caramel, stirring until smooth, then add to butter/sugar mixture. (This will avoid a lumpy outcome). Add salt and bring to boil, stirring until smooth.
5. Remove from heat and allow to cool for 10 minutes. Pour mixture over chilled base, then chill for another hour.
6. Slice bananas diagonally to create a long length of banana and toss in lemon juice. Lie banana lengths on their side in a spiral shape, starting from outside and finishing in middle.
7. Top this with either whipped cream or creme diplomat with a little coffee mixed in. Garnish with chocolate flakes.

CREME DIPLOMAT
Makes 2½ cups
• 150ml cream
• ½ recipe of creme patissiere (see below), chilled
1. Whip cream until firm.
2. Beat chilled creme patissiere until smooth. Fold gently through whipped cream with a metal spoon. Refrigerate in an airtight container for up to 3 days.

CREME PATISSERIE
Makes 2½-3 cups
• 500ml milk
• 1 tsp vanilla essence or paste
• ½ cup caster sugar
• 3 egg yolks
• ¼ cup cornflour
1. In a saucepan, combine milk, vanilla and ¼ cup caster sugar, and bring to boil.
2. In a bowl, beat together remaining caster sugar and egg yolks until pale and thick.
3. Add cornflour, then slowly pour half the milk mixture into egg mixture, whisking constantly.
4. Return remaining milk to the heat. When it has reached boiling point, quickly add egg yolk mixture, whisking constantly. As you add egg mixture to milk it will cool slightly. Keep whisking combined mixture vigorously over heat until it returns to boil, then remove from heat.
5. Pour into a bowl and lay a circle of baking paper on top so it does not form a film on surface.
6. Refrigerate in an airtight container for up to 3 days. Beat creme until smooth before using, as it will form a solid mass once chilled.
Share this:
More Food & Drink / Desserts