Little and Friday Carrot Cake Recipe
These delicious cupcakes are topped with cream cheese icing and candied orange peel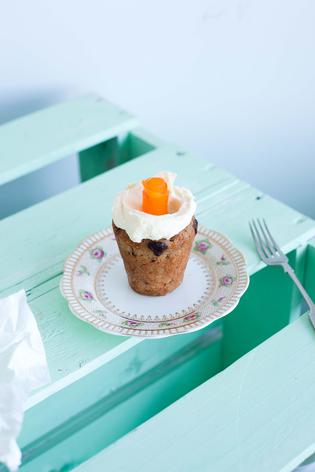 SPCA Cupcake Day is on August 24, and you can help fight animal cruelty by baking and selling cupcakes to friends, family and colleagues. Proceeds go to the SPCA — find more information and register to take part at spcacupcakeday.co.nz
LITTLE AND FRIDAY CARROT CAKE RECIPE
1/2 cup walnuts
2 cups flour 
2 tsp baking powder
1 tsp ground cinnamon
1 tsp freshly ground nut meg
1 tsp ground ginger
4 eggs
1 cup oil
1 cup brown sugar
2 cups grated carrot
2 tbsp chopped Candied Orange Peel
1 tbsp chopped crystallised ginger
100g good quality chocolate, chopped
1/2 cup chopped dates
Makes one 23cm cake or can be divided into cupcakes.
1. Preheat oven to 160 degrees C. Grease a 23cm cake tin and line the bottom and sides with baking paper, cut to fit exactly. (For cupcakes, spoon into cupcake moulds and bake for 10-12 minutes)
2. Place walnuts on a baking tray and roast for 5 minutes and set aside.
3. Sift flour, baking powder and spices into a large mixing bowl.
4. In a separate bowl, beat eggs until combined. Add oil and sugar and beat to combine.
5. Add grated carrot, roasted walnuts, Candied Orange Peel, crystallised ginger, chocolate and dates, and combine. Add to the flour mixture and stir to combine.
6. Spoon batter into prepared baking tin and bake for 50-60 minutes or until the top springs back when touched lightly and a skewer comes out clean when inserted into the middle of the cake.
7. Let the cake cool completely in the tin before turning out and peeling off the baking paper.
8. Ice the top with Cream Cheese icing and garnish with Candied carrots.
Cream cheese icing:
(Makes 3 1/2 cups)
125g unsalted butter, softened and cubed
500g cream cheese, cubed
1 cup icing sugar, sifted
1.Throughly cream butter in an electric mixer on high speed, continuously scraping down sides of bowl.
2. Soften cream cheese by squeezing through your fingers and adding to the butter. Continue beating on high until there are no lumps, scraping down sides of the bowl frequently.
3. Turn mixer to slow speed and add sifted icing sugar. When icing sugar is fully integrated, turn up speed and beat until mixture is smooth. Refrigerate in an airtight container for up to 2 weeks.
Candied Orange Peel:
Peel 10 oranges
3 cups caster sugar
1. Place orange peel in a saucepan with enough cold water to cover and bring to the boil.
2. Drain then repeat this process.
3. Place orange peel and 2 cups of sugar in saucepan with enough cold water to cover and bright to the boil. Reduce heat and simmer until peel is almost translucent. Keep checking water level to make sure it doesn't boil dry.
4. Remove from heat, drain and leave to cool. Transfer orange peel to tray lined with baking paper and leave to dry over night.
5. The following day, dip the pieces of orange peel in the remaining 1 cup caster sugar to coat. Store in an airtight container for up to 2 weeks.
Share this: