Little Bird flies to Ponsonby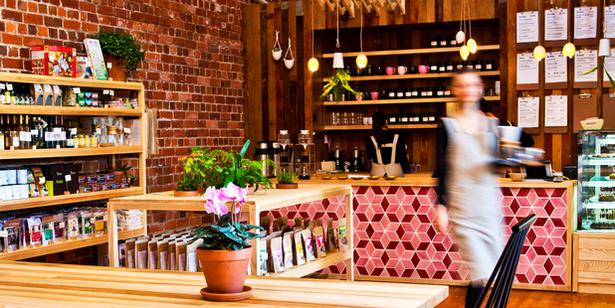 Wednesday Aug. 28, 2013
It's fitting that the new Little Bird Organics cafe and store is located in Ponsonby's Summer St because this darling of an eatery is like a little ray of sunshine.
Since the first un-bakery and cafe opened in Kingsland last year, the operation has positively blossomed, captivating Auckland with delicious, healthy, raw food offerings.
Now it has expanded into Ponsonby and owner Megan May says it was just meant to be.
"We weren't actively looking for where we'd go next but Kingsland has been so busy since we opened and it only seats about 15 people, so when we were shown the space in Summer St we fell in love with it immediately. We made our minds up to create something gorgeous." And they have. Husband Jeremy Bennett worked on the design again and it is magical - original brickwork is left exposed, plants hang in the light and airy space, a colourful tiled counter is a work of artful precision, and its trademark menus hang temptingly from clipboards on the wall.
They've expanded the menu for the new cafe too; their famous raw bagels - made from nuts, coconut and yoghurt - combine with portobello mushrooms, spinach and creamy hollandaise (vegan of course) for delectable breakfast benedicts.
There's a range of yeast-free nut-based breads and they look to be setting the trend with their range of cold-pressed juices, which are all the fashion in New York and California right now. In the cabinet are irresistible cakes, cheesecakes and tarts, all of them dairy, sugar and gluten-free.
Here at Viva we're happy there's now a pair of little birds to keep us healthy.
1A Summer St, Ponsonby, open seven days, 7am-4pm. 385 New North Rd, Kingsland, Open Tues-Fri 8am-2.30pm. Sat 8am-3pm.
Share this: