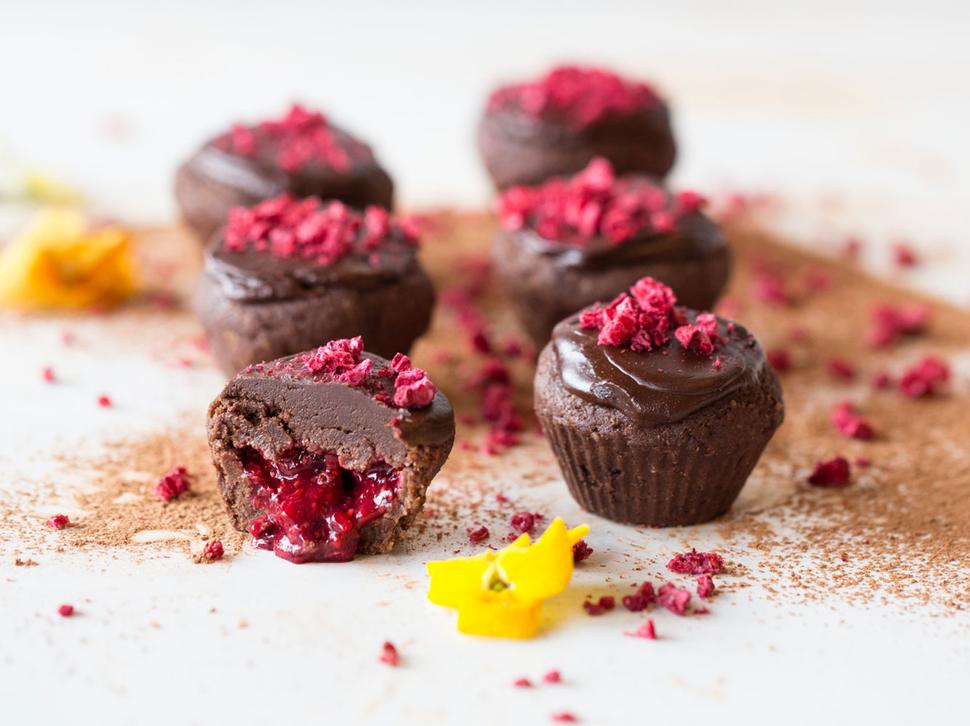 Little Bird's Raw Cacao and Raspberry Cupcake Recipe
Megan May shares a recipe for these delicious treats
Wednesday Aug. 19, 2015
These delicious raw cupcakes will brighten your afternoon and are just what the nutritionist ordered — refined white sugar is nowhere to be seen, they have a fibre content that rivals a bran muffin and they contain energising superfoods.
Despite what can seem like a long ingredient list, these cupcakes are very easy to make; just read through the whole recipe first so there are no surprises — all you really need is a blender or a food processor and a mini muffin tin and you're most of the way there. The frosting is very optional but when it comes to cupcakes decoration is everything.
Makes 10-12 mini raw cupcakes
Make time 30 mins
RAW CACAO AND RASPBERRY CUPCAKES
½ cup gluten-free oats
1 cup dried coconut
1 cup cashew
½ plus 2 Tbsp cacao powder
1 Tbsp coconut sugar
1 tsp psyllium powder or 2 Tbsp of flax meal
Pinch salt
3/4 cup dates (packed in — we used Ceres Deglet Noor dates)
1/3 cup almond milk
1/3 cup coconut oil (melted)
1 tsp vanilla extract
Raspberry Chia filling
2 ½ Tbsp chia seeds
1/3 cup filtered water
½ cup frozen raspberries defrosted
1Tbsp freeze dried raspberries or strawberries crushed into a powder
1 Tbsp lemon juice
½ tsp vanilla
1 Tbsp organic maple syrup or coconut nectar
CHOCOLATE FROSTING
4 Tbsp melted coconut oil
2 Tbsp cacao powder
2 Tbsp organic maple or coconut nectar
¼ tsp vanilla
Pinch salt
Method
1. Pulse the oats, coconut and cashews in a food processor or blender until they become flour-like, set aside in a bowl with the coconut sugar, psyllium and pinch of salt.
2. Put the almond milk, vanilla and dates in a food processor or blender and blend into a paste then add the coconut oil and blend until fully combined.
3. Now pour into the bowl with the dry ingredients and fold together with a spatula — you will have a sticky fudgey mixture at this stage which will firm up by allowing it to settle for 5 mins as the psyllium & flax take up some of the moisture, if you have made it too wet you can add a little more of either to soak up the moisture.
Note — please taste at this stage, with all raw recipes your ingredients effect the taste of your end product dramatically, you may need to add more coconut sugar or cacao depending on the sweetness of the dates you used, or the richness of the cacao powder.
4. Line your cupcake tin with plastic wrap and fill with a level amount of the cupcake mixture — then scoop out a teaspoon of mixture from the middle of each one and put in the fridge or freezer for 5 mins to firm up.
5. With the remaining mixture cup cake mixture make 10-12 circular disks (your cupcake tops) to fit the width of the cupcake tins set aside at room temperature until you have made the chia compote below.
To make the raspberry chia compote:
1. Place the chia seeds in the water and mix well so there are no clumps, set aside for 5 mins. While the chia seeds are soaking blend all the other ingredients together until smooth then fold into the chia and set aside for another 5 mins.
2. Scoop a spoonful of the raspberry chia compote into each of the indents you made in the cupcakes. There will be plenty left over to keep in the fridge for having on your breakfast the next day.
3. Place your cupcake tops over each one to enclose the raspberry chia compote and seal around the edges by pressing lightly.
4. Put the cupcakes back in the fridge to set for 5 mins while you make the frosting.
To make the chocolate frosting:
1. Mix together all the ingredients until smooth. Let it set just enough so that you have a frosting consistency.
2. Now dress your mini cupcakes with frosting and any other edible decorations like flowers and freeze dried berries.
3. These are fudgey and rich little morsels that are best enjoyed with a cup of your favourite tea.
Share this:
More Food & Drink / Recipes