Little Bird's raw apple and blueberry cake
Try this delicious cake from Megan May's new recipe book, The Unbakery: Raw Organic Goodness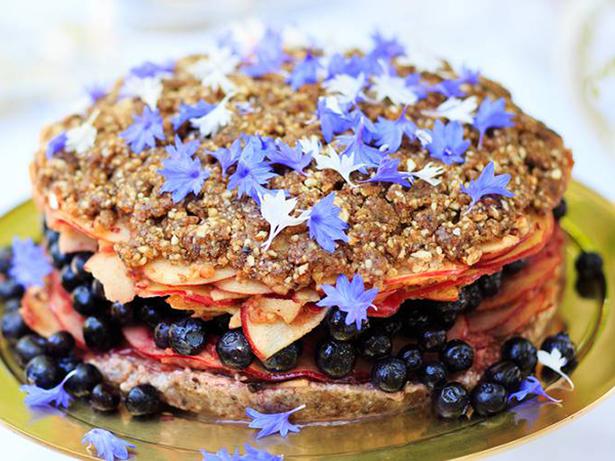 Tuesday Oct. 21, 2014
APPLE AND BLUEBERRY CRUMBLE CAKE
A homey style cake, that leaves you feeling happy inside like you just finished off a family meal with nan and one of her perfect apple and blueberry pies.
Crumble Ingredients
1½ cups activate walnuts
1½ cups activated almonds 
1½ cup dates
1 tsp cinnamon
¼ tsp nutmeg
Pinch Salt 
½ tsp vanilla bean powder
1. In a food processor, combine all ingredients until they start to stick together - you want it to have some chunks still it so it maintains lots of texture to bite on.
2. Press half of the mixture into the base of a 20cm round cake tin.
Filling
8 medium-sized apples (granny smith or braeburn are best)
2 cups of fresh blueberries
½ cup pitted and packed, medjool dates
¼ cup sultanas or currants
2 tsp cinnamon 
¼ tsp nutmeg 
1 tablespoon vanilla extract
Pinch salt
zest and juice of 1 lemon
1. Peel and core all apples.
2. Chop 2 of the apples into rough chunks, in a food processor pulse the chopped apples with the dates, currants, cinnamon, nutmeg, vanilla, salt and lemon until combined and there is some stickiness to the mixture. Set aside.
3. Chop the remaining apples into thin slices - approx. 2mm thick on a mandolin or by hand.
4. Lightly mix the apple slices and the spiced apple mixture together in a bowl. 
Layer half the apples on the base of the cake and then the blueberries, layer with the rest of the apples on top of the blueberries and press down on top to ensure that everything sits flat.
5. Top with the remaining crumble mixture, sprinkling it over the top of the filling like you would a crumble, then press down lightly on the mixture, you want it to come together but not be firmly pressed or totally uniform so it's still has that lovely crumbly varied texture to it.
6. Enjoy with a little almond cream or cashew coconut cream.

• Recipe from The Unbakery: Raw Organic Goodness by Megan May. Beatnik Publishing, $60.

Click here to read our story on Megan May.
Share this:
More Food & Drink / Recipes