Lone Bee Releases a Great Summer Refresher
Oren Dalton on his pursuit for the perfect batch of sparkling honey mead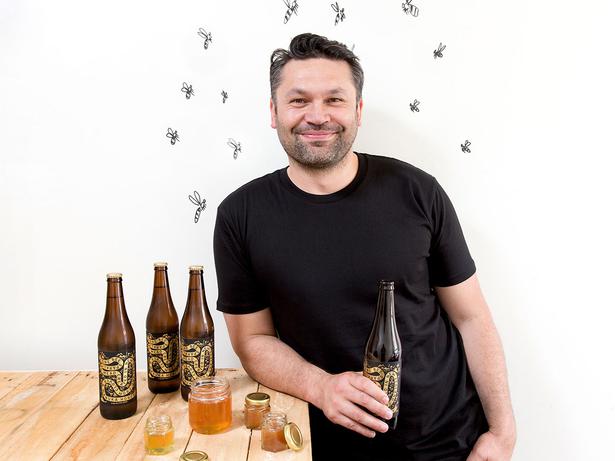 Thursday Nov. 16, 2017
Oren Dalton may be a banker by day but he moonlights as a brewer, having spent countless hours under his house perfecting the recipe for his debut batch of Lone Bee sparkling honey mead.
When he moved from Northland to Auckland he began home brewing, and realised there was no one else making mead. He tried adding honey to his creations and a few years later — after some "pear-shaped" results — he came up with a recipe he felt was ready to pass on to a contract brewer.
Because there were so many variables at play in fermenting, however, he had no idea how the resulting 4000 litres would taste.
"Luckily it tasted almost exactly as I was hoping — if it wasn't great I wouldn't feel right sharing it, so I was really happy," he explains. With a subtle sweetness, Lone Bee sparkling mead is crisp, dry and refreshing, and made with clover and manuka honey.
The black and gold bottles are by One Design, and feature another of Oren's inspirations and his mead's namesake, the lone bee that scouts far and wide for the things its hive needs to thrive.
READ: Comvita and the Business of Making Honey
"They go out on their own, they don't know where they're going or if they're going to make it back alive, but as soon as they find what they're searching for they go all the way back to the hive," he says.
Oren sees himself as a bit of a scout bee, winging it in the hope his new business can create a series of "win-win situations" further afield. His ultimate goal? "Hopefully, if this goes well, I can not only help myself, help my family, but I can eventually create a new industry that rivals the wine industry."
He sees meaderies all around the country, with trails linking the sources of the best honey, boosting its value, the bee population and the economy of regional towns.
His reasoning is simple: "If we make the best honey in the world, why can't we create the best mead in the world?" Oren's off to a flying start, with Lone Bee sparkling mead being picked up by bars across Auckland, including Pocket, Coco's Cantina, Brothers Beer, Dr Rudi's and Vultures Lane.
Oren will also have a stall at this year's Taste of Auckland festival at Western Springs - try a glass for yourself and see what the buzz is about.
• For stockists, visit Lonebee.co.nz
Share this:
More Food & Drink / Wine & Drink