Loveblock party
Winemakers Kim and Erica Crawford open the doors of their elegant Auckland home to toast their new venture with distinguished guests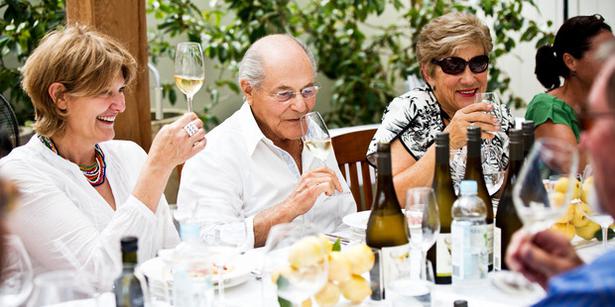 Thursday May 23, 2013
It was toasts all round when the who's who of New Zealand pioneer winemakers sat down to lunch recently. The hosts? The former owners of Kim Crawford, Kim and Erica. The VIP guest? Visiting American fine-wine visionary Anthony J. Terlato.
The occasion? The launch of the Crawfords' new Loveblock Wines.
Terlato brought jars of his own homemade tomato sauce and canned San Marzano tomatoes with him from Chicago, and although the table was set for wine royalty, there was a warm conviviality but no airs and graces as the winemakers recounted old times and welcomed the new.
Terlato, who heads several businesses involved in producing, importing, exporting and marketing wines across the world, is an accomplished member of the industry and is credited with first introducing Americans to pinot grigio in 1979. But it was aprons on for him and his wife Jojo as they busied themselves in the Crawfords' Remuera kitchen, creating a family favourite, tomato and basil sauce, to be served over pasta spirals, their contribution to the Italian menu cooked by chef and food writer Connie Clarkson.
The guest list included the likes of Nick Nobilo (who brought a bottle of his Vinoptima noble wine as a gift), Villa Maria's Sir George Fistonich, Joe Babich, Michael and Melba Brajkovich from Kumeu River Wines, and Bill Spence from Matua Valley. After antipasti, served standing in the kitchen on arrival, everyone sat to dine in the late-summer sun in the adjacent sheltered courtyard as, unconcerned, the Crawfords' dogs, Queenie and Spooky, happily chased balls.
After a celebratory toast of Pol Roger to accompany the antipasti, the wines at lunch fittingly came from Loveblock. Sauvignon blanc, pinot gris, bone dry riesling and gewurztraminer are the first to be released from the new label and are produced from a certified organic, 85ha anchor vineyard above Marlborough's Awatere Valley. They're joined by pinot noir, produced from an 8ha vineyard dedicated to the varietal.
Sustainable winegrowing-accredited organic principles will be implemented in the Central Otago vineyard by next year.
Pinot blanc, moscato, saint laurent, chenin blanc, tempranillo and arneis have also been planted. All the wines are sold online in New Zealand.
The organic nature of the business is a deeply personal one for Erica, CEO of the company. "When I was in my 30s, my doctor told me I presented like a 55-year-old. I lived on Red Bull. I have an ectopic heartbeat and, after [being given] such a talking to, I started gradually to cut things out of my diet: flavourings, stimulants and colourings. We sold Kim Crawford in 2006 [it was bought by Canadian beverage company Vincor] but had bought our Loveblock land overlooking the Awatere Valley in 2003."
Described as remote and wild, it was, says Erica, "very de-natured and needed to lie dormant for some time. We thought we were bulletproof and would go straight into biodynamics! But what did we know?"
The aim now is to work towards biodynamics. The highest form of organics, biodynamics takes a holistic approach in that the soil, plants and animals create a self-sustaining system. Sowing and planting is done by the astronomical calendar. Indeed, some biodynamic practices are already employed at Loveblock.
"For me, the crop has to be commercially viable under organic management," adds Erica.
"New Zealand is an agrarian economy and we need to take care of our land. Yet organic wine has to be as good as any other wine. What it hasn't got in it is the crux of the matter for me."
In his welcoming toast, winemaker Kim said the name reflected the couple's "love of the block" and their belief that ethical farming and land care enables the wine to reflect its true terroir. "For me, the challenge of Loveblock was to tame the wild piece of land up there on the hill. I thought the flavours we could extract had the potential to be quite special and distinctive - intense yet elegant."
An initial 9000 cases have gone to Terlato Wines International in a long-term partnership to market the brand in North America. They go on sale in the US this month.
"It's all about the taste," says Terlato. "Sometimes it's difficult to tell if being organic makes a difference, but I could see Erica and Kim's attachment to the soil and their sense of quality. We have to spend 20 to 25 years growing a brand, so it has to be compatible."
"This house has seen a few decent dos," says Kim, casting an eye over the assembled guests as Terlato offers everyone spoonfuls of his sauce from the pot.
As this new venture is launched, 50-year wine-industry veterans Nobilo, Fistonich and Babich rise from their seats to recall how they would meet every Tuesday, sitting on beer crates in Mangere, Henderson and Huapai. "We fought at the marketplace, but we were very open about production and shared ideas," says Nick. "A lot of the advancement in the industry stemmed back from those days. It really was the age of discovery."

On the menu
FOOD
• Antipasti
• Spirals alla rustica
• Vitello tonnato (pork) with arugula salad, roasted peppers, courgettes and mushrooms
• Tiramisu, fruit and cheeses
• Accompanied by Loveblock
WINES
• 2012 Marlborough sauvignon blanc
• 2011 Marlborough pinot gris
• 2011 Marlborough bone dry riesling
• 2011 Marlborough gewurztraminer
• 2011 Central Otago pinot noir
Share this:
More Food & Drink / Wine & Drink