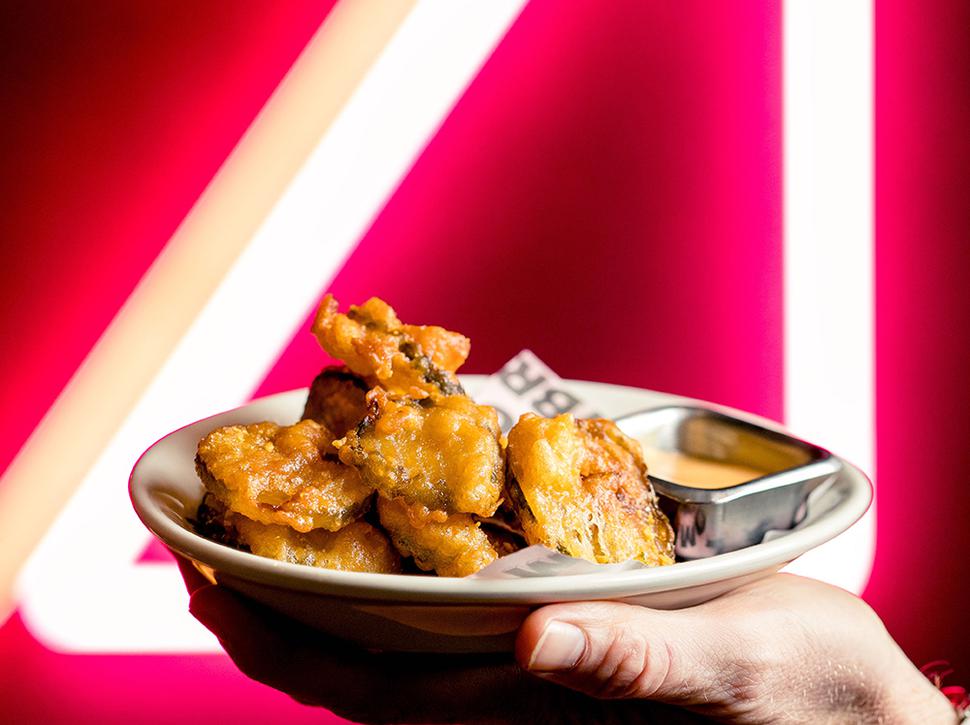 Lowbrow's Nacho-Fried McClure's Pickle Chips
Bless up – celebrate National Pickle Day with these heavenly pickle delights
Wednesday Nov. 14, 2018
This is a pretty simple recipe, the key is to have the nacho cheese sauce made so when the fried pickles are ready you can enjoy 'em while they're hot!
LOWBROWS NACHO-FRIED MCCLURE'S PICKLE CHIPS RECIPE 
Nacho Cheese Sauce 
200g cheddar cheese (grated on large holes of a grater)
1 Tbsp corn flour
1 can evaporated milk
2 Tbsp Huffman's original "not too hot" sauce
1. Add the cheese and corn flour to a bowl. Toss them together to combine. Transfer to medium saucepan.
2. To the saucepan add 1 cup evaporated milk and the Huffman's hot sauce. Cook over low heat, stirring constantly with a whisk until melted, bubbly, and thickened (about 5 minutes).
3. The mixture will look thin and grainy at first but will thicken and emulsify after heating. Thin to desired consistency with additional evaporated milk.
Pickle Chips 
50g cheese-flavoured corn chips
100g tempura flour (any good supermarket will have this)
200g soda/sparkling water
1 jar McClure's sweet & spicy crinkle cut pickles
Salt
Vegetable oil and vessel for deep frying.
Note: You'll want to use this straight away, the longer it's left to sit the more the corn chips hydrate and thicken the batter.
1. In a mortar and pestle or food processor crush the corn chips into pieces no larger than 3mm. In a medium bowl mix the tempura flour and the corn chip pieces, whisk in the water. This should have a loose pancake batter consistency, if it's too thick, add a little more water, or its too runny, add a touch more tempura flour. 
2. Heat oil to 180C for frying — either in a deep fryer or a pot on the stove — if using a pot have a candy or frying thermometer handy to check and maintain the heat.
3. Drain the pickle slices and pat them dry, place the slices into the batter. Using a small set of tongs individually pick them out of the batter making sure they're fully covered and gently place them into the oil, hold each slice in the oil for a few seconds so they don't stick to the bottom of your fryer.
4. Fry in batches for 2-3 minutes until crisp, place onto a paper towel lined tray and season lightly with salt. Serve with nacho cheese sauce. 
Share this: