Luxe Wines to Try
Wine is one of the few luxury goods whose experience can truly be shared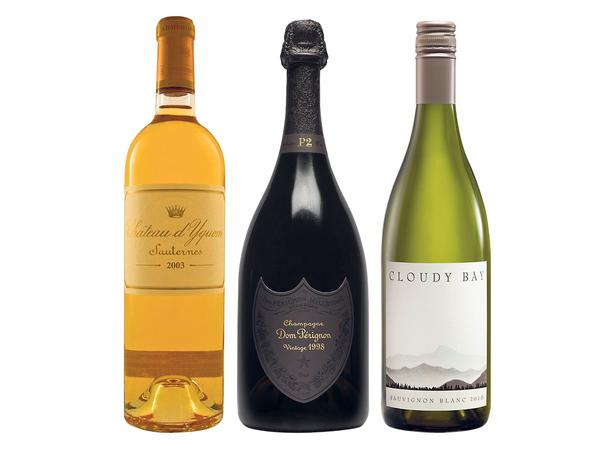 Wednesday July 6, 2016
"The liquid had taken on a deep golden hue, orange-yellow with coppery tones and hints of pink: the colour of intelligence and wisdom, scented with the thrill of desire," writes philosopher, Michel Serres, beautifully describing the experience of sharing a bottle of the legendary dessert wine Chateau d'Yquem with a friend in his book, The Five Senses.
With more than five centuries of history behind it, Chateau d'Yquem has been widely regarded as one of the greatest sweet wines in the world. It's now also part of the ultra-elite luxury sector, rubbing shoulders with Louis Vuitton handbags, TAG Heuer watches and Marc Jacobs' dresses in the portfolio of the world's largest luxury goods producer, Louis Vuitton Moet Hennessy (LVMH).
A wine can be a luxury good in a similar way a high-end perfume or piece of jewellery can. But to transcend being just a fine wine and gain luxury status it has to be more than just an ambrosial liquid of impeccable provenance. It must also be imbued with exclusivity.
"There is a sense of being part of something bigger than yourself but at the same time, being part of something very small and exclusive," says Katie Jacobs, general manager of LVMH's local drinks arm, Moet Hennessy New Zealand, when I ask her how wine has become part of the luxury sector.
"Wines (and spirits) have always been an integral part of LVMH," she explains. "Indeed the very name Louis Vuitton Moët Hennessy reflects the fact that wines and spirits have been a core pillar of the group since it was founded in the 1987 through a merger of Louis Vuitton and Moët Hennessy."
Moet will be a name known to most, with Champagnes arguably the first luxury wine brands from a region that has become synonymous with luxury. Chateau d'Yquem, in which the group became majority shareholders in 1999, has its longstanding pedigree.
But is it possible for newcomers to enter the category, which unlike the world of fashion, for wine appears to be fairly traditional?
"Provenance and history are at the heart of Moët Hennessy wine brands," Jacobs acknowledges.
However, the LVMH portfolio includes New World names such as Australia's Cape Mentelle and our own Cloudy Bay, one of the few New Zealand wines to attain luxury status. This was achieved by the trailblazing position of its sauvignon blanc in the 1980s, combined with clever marketing that included strictly limiting allocations to cultivate the idea of its scarcity, and tapping the increasingly desirable image of a "natural luxury lifestyle".
It may be harder for wines to become recognised luxury brands, but they appear well-suited to the direction the sector is heading in. "The luxury business is always changing, and a very strong trend we are seeing is the growth of consumers looking for experiences in their luxury purchases," Jacobs notes.
"Luxury wines fit very strongly with this trend. They are also a luxury product, which by their very nature, are designed for sharing — with family and friends, which is a very strong benefit for luxury consumers."
As with the bottle of Yquem that flows through a whole chapter of Serres' book, the enjoyment of a luxury wine need not be a solitary indulgence. Wine is one of the few luxury goods whose experience can truly be shared.
LUXURIES TO SHARE
Chateau d'Yquem Sauternes 2003 $500
A beautifully harmonious wine that oozes exotic richness and takes you on an intriguing journey through multiple layers of flavour. There are notes of manuka honey, dried apricot, fresh mango, orange zest, creme caramel, a savoury nuttiness, plenty of fragrant spice and sweet unctuous character perfectly balanced by a fresh drive of lemony acidity. From Glengarry.
Champagne Dom Perignon "P2" Vintage 1998 $550
Though luxury wines might not get a new look every season, new releases such as Moet's prestige cuvee Dom Perignon's P2 shows it's not standing still. Replacing the Oenotheque range, it's the first of the Second Plenitude Series, which has spent 12 years ageing on its lees, then two years resting post-disgorgement. It's a remarkably youthful expression with bright apple and white fruits, and a taut spine of citrus and mineral delivered in a silky mousse. There's also a rich savoury hazelnut undercurrent in this ultra-fine Champagne of immense delicacy and intensity. From thegoodwine.co.nz
Cloudy Bay Marlborough Sauvignon Blanc 2015 $35
There may now be more sauvignons vying for supremacy than when Cloudy Bay's was launched in the 1980s, but it remains in the upper echelon with an example like this. The 30th vintage of this local icon combines power and elegance in its notes of passionfruit infused with fragrant lemongrass over an undercurrent of fresh citrus and mineral.
From leading wine retailers.
Share this:
More Food & Drink / Wine & Drink