Mabel's Is The Burmese Eatery Adding A Fresh Voice To The Capital's Food Scene
We find out what's on the menu and why its namesake was such an inspiration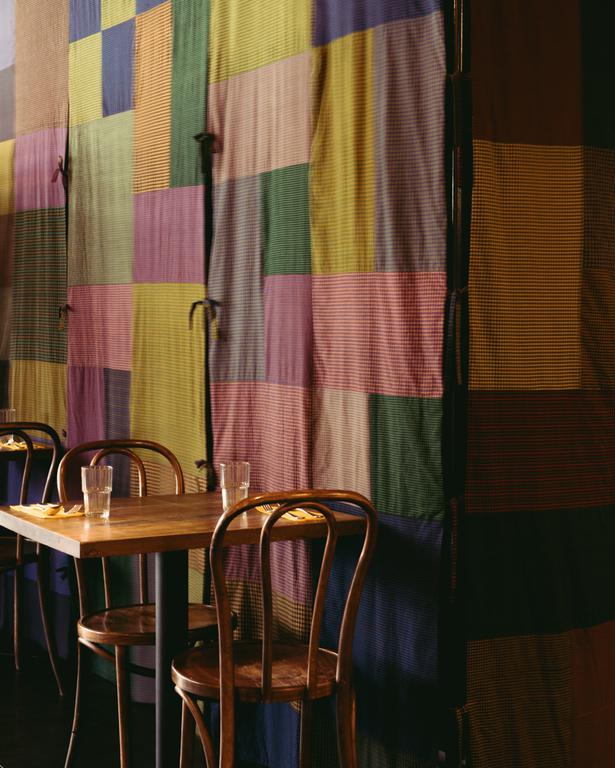 Friday June 24, 2022
It's not the only restaurant with a woman's name, but for Wellington eatery Mabel's, there is a deeply personal story to its namesake, co-founder Marlar Boon's phwa phwa (grandmother), who is the inspiration behind the "Burmese eat and drink shop," as its owners — Marlar, husband Ian Boon and friend Dan Felsing — prosaically describe it.
Following a series of pop-ups, Mabel's opened in its permanent Te Aro location in January. Burmese food is distinctive (although it shares elements with Southeast Asian and South Asian cuisine) and proving a hit with Wellingtonians. We talk to Marlar about what makes Mabel's special.
Could you tell us briefly about the ethos of Mabel's and how it got started?
Mabel's is a Burmese eat and drink shop that is a place to come together, to fill your bellies, to be with people you love and care about.
I am Mabel's granddaughter, Marlar and own Mabel's with my husband Ian and our friend Dan. I have a background in visual arts and retail. Ian and Dan also own a little cocktail bar in Wellington called Crumpet.
The idea for the restaurant came about after Ian and I last went to Myanmar in 2017. We wanted to create a new and unique dining experience and for diners here to have more engagement with minority cuisines. Also, it is important to showcase Myanmar's cuisine and to raise awareness about my home country.
For those unfamiliar with Burmese cuisine, what can they expect?
I think it is nice for people to come in with no expectations and to just embrace the idea that this is something new. Some of the feedback we hear from guests is that it's like nothing they have tried before or some flavours are familiar but in quite a new and unique way to how they have experienced it before.
Burmese food has elements and ingredients from other Southeast Asian and South Asian cuisine so it is a real amalgamation of those flavours but in a new context for people.
What is a must-try on the menu?
Personally, for me there are three items in particular that are the most unique dishes that most New Zealanders would not have tried before. Our tohu (tofu) is made out of besan flour so it tastes like a nutty savoury custard. We serve it two ways, deep-fried and fresh as a salad.
La phet thoke which is a pickled tea leaf salad. People from Myanmar are one of the only cultures in the world to eat tea leaves and it is one of our national dishes. If you are willing to give anything funky a go this is a must try. It is by far our best-selling dish and it has been so warming to see how guests at Mabel's have loved it.
Lastly, our mohinga which is a fish, lemongrass, rice noodle soup and our other national dish. Mohinga for me personally is my chicken soup. It is what I crave most often and is very special to me because after Mabel ran the Monsoon she used to feed friends and family (could be up to 80 people) at her house every New Year with mohinga. It is quite a textural dish as it has a deep-fried element to the dish that is broken up and eaten through the soup. At Mabel's we use an onion fritter.
What's the significance of the name?
Mabel, my late grandmother (Phwa Phwa) was a pinnacle in her heyday in Wellington. She was a community-minded, single mother who immigrated to New Zealand in 1976. After living here for two years she opened the first Burmese restaurant in New Zealand named the Monsoon. She later moved on to help start the Buddhist monastery in Wellington.
We wanted the space to embody her warmth and love of community and to tell a deeper story. My Phwa phwa was a strong-willed woman who helped many people she met and always had the best intentions. I think it is important to share these stories and values and for guests to see how much we care about what we do. I also know that's what my Phwa phwa would expect of me.
Could you tell us about the use of textiles at Mabel's?
The textiles in the space are of great significance to me because they are fabrics from my late uncle, Michael who passed away early 2021. He was one of Mabel's four children and a father figure in my life. He was the biggest push behind my husband and I opening the space. The fabrics are Burmese men's sarongs called longyi. Even though he's not here, I wanted my uncle to share in being a part of Mabel's and when we open the doors at Mabel's it's nice to see the fabrics move with the wind and what I consider his presence in the space.
Our friend, Marta Buda who is a local, clever textile designer assisted us with designing a curtain to cover some existing shelving we had in the space with help from Annemiek Weterings, a local seamstress. What's lovely is both Marta and Annemiek are part of our children's school community. The patchworked fabrics also remind me of walking around the streets of Yangon and seeing all the colourful longyi's pass you by. There is a real essence and connection to my childhood memories and my experiences back home.
An excerpt of this interview originally appeared in volume seven of Viva Magazine.
Share this: